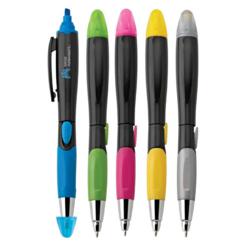 New York, NY (PRWEB) July 11, 2012
1234PENS is now offering free shipping and free set up charge to all its customers. This exciting new offer is for those businesses who are interested in using promotional pens as a marketing tool for increasing their business. One of the most effective marketing tools out there to enhance brand recognition among clients is to use promotional products, such as custom pens. Promotional pens are recognized as cost-effective and work as a reminder to customers of the service they received. When clients approach a cash register, sign documents, or interact with a company in any face to face communication, what they take away makes a difference. Advertising pens with a custom imprint and logo pens make a lasting impression and 1234PENS offers is now offering free shipping and free setup charge to all new customers.
1234PENS offers thousands of types of pens from gel pens, ball points in different colored inks, wide-barrel and soft grip styles in just as many colours from the bright neon to corporate navy and green, with either silver and gold accents. 1234 PENS will find you any combination of look that will suit any company to ensure that the look of each pen is unique to the type of work that any company does. In every industry, whether a restaurant, cafe, law firm, dental office or real estate company - clients are bombarded with the names of competitors. Business pens allow a company to stand out as a consistent reminder and increase name recognition after a customer walks away from the business. Festivals, trade-shows and yearly events are a great time to use custom pens as a giveaway. Customers come back for more pens and appreciate a small gesture of appreciation and advertising pens allow for consistent name recognition.
1234PENS has something that will work all types of business from small to fortune 500 companies. From high-end corporate pens to the every day click-stick, 1234PENS has the custom pen that customers keep. A company's success often depends on customer loyalty and one way to enhance that loyalty is by keeping a company's logo and contact information in front of their eyes and in their hands - business pens with custom imprint will do just that.
For more information, please visit http://www.1234PENS.com
About 1234PENS.com:
1234PENS has been providing promotional pens for over 35 years and have helped over 300,000 customers increase brand awareness and customer loyalty through their high-quality products. 1234 can provide any company with quick and easy delivery within 48 hours to any city in the United States at no additional cost. 1234 PENS offers the most competitive prices and do not charge a set-up fee.