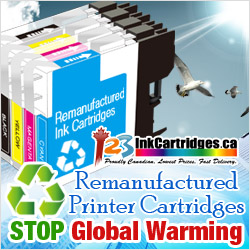 "The problems associate to climate changes will not only causing serious damages to the company but us..." says Jack Zhan, the CEO of 123InkCartridges.ca
Montreal, Quebec (PRWEB) July 29, 2011
The irresistible hot temperature during the past weeks has become one of the hottest topics on news, not only does such issue potentially leads to social-economical crisis, it also triggers eminent hazards that eventually turns to global warming. In response to such global crisis, a Canadian company 123InkCartridges.ca has decided to take the lead to fight against global warming. On July 28, 2011, the company announced that their next move will be adopting more green technologies in the working environment. In the mean time, they will offer more eco-friendly products to the public. The company believes that being responsible to earth will be their priority in consider to company's growth.
According to PwC's report, three aspects of a company – emission, energy efficiency and climate change – contribute to a company's success by 14%, 12% and 12%, respectively. Taking this information seriously, 123inkcartridges tackles global warming by means of offering re-manufactured (i.e., recycled and refilled) ink cartridges and toners supplies. Not only does re-manufactured products lower the production cost, it also reduces the amount of plastic consumption, a significant source of pollution. In addition to this measure, 123inkcartridges.ca sells products with ISO eco-friendly certification - electronic items that they offered are both highly recyclable and energy-saving.
"The problems associate to climate changes will not only causing serious damages to the company but us..." says Jack Zhan, the CEO of 123InkCartridges.ca, who believes that many firms have failed to be responsible to the society by taking global warming into concern. As the result, more and more hazardous materials have been dumped into the market regardless how harmful they are. "Immoral practices should be eventually sanction or punish by individuals..." commented by an insider. The company is expecting more feedback and partners to be joined in order to fight against global warming.
About 123inkcartridges.ca
Since established in 2007, 123inkcartridges.ca has quickly become one of most popular online sources for printer ink & toner cartridges, HDMI cables, iPhone Accessories and iPad Accessories in Canada. The company's headquarters is located in Montreal, Quebec and has warehouses in both Montreal and Vancouver that ship all over Canada and the United States. More information about the company could be found at http://www.123inkcartridges.ca/