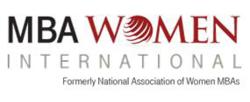 "This year Deloitte has decided to expand its commitment to our organization by making a 2-3 year partnership commitment to help advance their leadership pipeline and talent pool," says Liz Kaplan, VP External Affairs MBA Women International.
Seattle, Washington (PRWEB) July 18, 2012
MBA Women International (MBAWI) announced today several Fortune 500 corporations have agreed to support the 2012 Leadership Conference. "This year Deloitte has decided to expand its commitment to our organization by making a 2-3 year partnership commitment to help advance their leadership pipeline and talent pool," says Liz Kaplan, VP External Affairs MBA Women International.
As of today, other corporate sponsors which will sponsor the 2012 leadership conference are Ernst & Young, Walmart/Sam's Club, Prudential, MetLife, GE, Humana, Cricket Communications, American Airlines, Sony, BTS and Intel.
There are many ways that MBAWI partners engage with this leading organization in promoting leadership skills for women in corporate and self employment, providing them opportunities to gain access to the C-Suite and corporate boards through international online education opportunities, speaking and presentation engagements with their 72 collegiate chapters and 20 professional chapters as well as their international At-Large membership.
According to a recent McKinsey Report, if companies could raise the number of middle management women who make it to the next level by 25%, it would significantly alter the shape of the pipeline. More women who make it to senior management share an aspiration to lead, and more believe that getting to senior leadership is worth the cost. Advancing more women into these positions would in time help companies rebalance their executive committees, which in turn increases the likelihood of sustaining gender diversity at every level to the very top.[1]
This year MBA Women International has expanded their status to an international level. The organization has been recognized as a thought leader in stories in the Financial Times, US News and World Report, Bloomberg Businessweek, Online MBA, San Francisco Chronicle and the Seattle Post Intelligencer.
MBAWI will launch The International Leadership Academy and the resultant Executive Leadership Certification at their October 2012 conference. It has been developed to enhance the relationship between MBA Women International, its membership, its mission and vision and its corporate partners who desire stronger more prepared women of diversity to lead into the 21st century. "The Leadership Academy has been the united efforts of our corporate partners, our board leadership, our university leaders and our membership," says Gail Romero, CEO MBA Women International. "We have merely been the conduit that has taken their issues, concerns and desires into account as we developed a curriculum that can assess where they are now – and help them build a roadmap to where they want to be in their global careers utilizing the best materials, science and research that is currently available. MBAWI will continue to evaluate the curriculum as we see new research, ideas and trends become available for our membership and our partners. Our flexibility to respond quickly to the needs of our stakeholders is what will make this academy excel globally."
MBAWI offers corporate partners the following benefits:
· To exemplify their own vision as a leader in diversity with added exposure on the MBAWI website and the Leadership Academy Magazine as a highlighted corporation in developing women leaders
· An opportunity for a corporation to present their top female executives as role models for women who desire to acquire skills and engage in leadership positions with the membership both internationally and regionally
· A chance to connect with the world's fastest growing network of professional and collegiate women with a reach of over 5,000 members in 53 nations, 72 collegiate chapters and 20 professional chapters
· To present a corporation's projects, programs, products or services to MBAWI membership through webinars with a global reach as well as in their corporate and university communities
· To become engaged with a pool of diverse women from around the world and help them advance their soft and hard skills through support of scholarships and continuing education
· To meet and interact on a social and business platform with diverse candidates who have attained remarkable leadership skills and the desire to fill leadership pipelines with corporations of integrity, strength and vision
· To become one of the first top 100 corporations listed in the MBAWI directory as undeniable leading corporations who support diversity, women in leadership at all levels including the C-Suite and corporate board of directors
· To become a designated member of the Corporate Advisory Council – the top tier corporate supporters that help guide and direct the mission and vision to better address the leadership pipeline deficit and fulfill their mission to engage women of diversity throughout their organization.
MBA Women International will hold their annual Leadership Conference and Career Fair October 18-20 in Phoenix, Arizona.
ABOUT MBA Women International
MBA Women International is a not for profit organization dedicated to the advancement of business women as corporate leaders, executives and entrepreneurs- enriching workforce diversity around the world.
We serve four related client groups: female MBA students, female business professionals and entrepreneurs, universities and corporate partners.
Visit http://www.mbawomen.org. To find out more about joining a MBA Women International student chapter or a professional chapter contact: membership(at)mbawomen(dot)org.
[1] Unlocking the full potential of women in the US economy a special report produced exclusively for The Wall Street Journal Executive Task Force for Women in the Economy 2011.