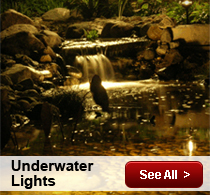 For the best LED landscape lighting, trust 12 Volt Lighting.
San Fernando, Ca (PRWEB) September 08, 2012
12 Volt Lighting, a leader in the outdoor lighting industry for more than 20 years, announces it now offers underwater outdoor lighting. These new durable fixtures are an excellent choice for pools, ponds or other bodies of water where lighting needs to be completely submerged. They are also a convenient choice for areas with a lot of water exposure from fountains or rain run-off. Underwater outdoor LED lighting options are available on most models as well.
All outdoor lighting needs can be met by 12 Volt Lighting. In addition to underwater lighting, they stock spot, flood, rope, path and area lights. Numerous configurations are available, including hanging lights, in-ground well lights and post top lighting. For a more energy efficient system, choose from a variety of LED lighting options, as well solar lighting. Improve the appearance and safety level of any outdoor surface with 12 volt deck lights. Choose from flush mounted, built-in or surface mounted lighting that requires no cutting into the surface area.
Consider 12 Volt Lighting the one-stop resource for outdoor lighting. Add an extra level of convenience by purchasing one of their LED landscape lighting kits. Each kit comes with everything needed to install a new outdoor lighting system, including fixtures, the transformer, wires and connectors. Alternatively, purchase just what is needed for your home improvement project. 12 Volt Lighting sells all products and accessories separately as well. Get the perfect timer, mounting accessory, bulbs, nuts and bolts, and tools all from one resource. Their experienced employees are available to help customers select the right kit or type of light to best fit their needs and budget.
In addition to a vast inventory, providing endless options for any project, 12 Volt Lighting prides itself on competitive pricing, fast and free shipping on orders over $50, high-quality products, a 30-day return policy and a safe, convenient ordering process through its Web site. Additionally, customer service representatives and a highly skilled technical support team are available 24-hours a day to assist clients before and after the sale.
For the best LED landscape lighting and 12 volt outdoor lights, trust 12 Volt Lighting. Shop the most popular brands in lighting and accessories. 12 Volt Lighting carries Advantage, Best Quality Lighting, Hadco, Orbit, Troy and many other trusted brands. Learn more at http://www.12voltoutdoorlighting.com or call (877) 777-8421.