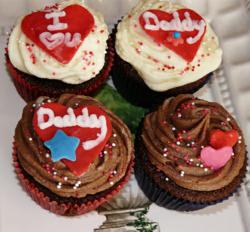 GoBankingRates.com understands that choosing the perfect gift is nerve-racking enough without having to worry about the expense too.
Los Angeles, CA (PRWEB) June 11, 2013
According to the most recent data from the U.S. Census Bureau, there are more than 70 million fathers in the country – which means millions of children are stressing over what to give Dad for Father's Day 2013. Personal finance site, GoBankingRates.com, understands that choosing the perfect gift is nerve-racking enough without having to worry about the expense too, and provides a guide to thoughtful but inexpensive Father's Day gifts to give dads this Sunday (preview below).
Some of the most budget-friendly gifts are often not store-bought, but rather made by hand. Luckily, according to a new CreditDonkey survey, 24.7 percent of dads responded that they would like to receive something homemade for Father's Day 2013.
However, for gift givers who aren't particularly crafty, or who just know their dads would prefer something store-bought, the GoBankingRates.com Father's Day 2013 gift guide has something for everyone.
Below is a preview of the full guide:
Homemade Father's Day Gift Ideas
1. Memory Box: For fathers who like sports, concerts or going to the movies, chances are, they have a lot of ticket stubs lying around. Put these stubs and other keepsakes from good times shared together in a decorative memory box.
2. Notable Quotable Notebook: Buying an empty notebook and filling it with favorite memories or quotes shared with Dad is a great way to show love, while staying in the realm of cheap Father's Day gifts. It can also be filled in with quotes, or reasons why Dad deserves 'Father of the Year' every year.
Food and Desserts
3. Make His Favorite Dessert: Another inexpensive gift for Father's day is a home cooked dessert like cookies, cupcakes or lemon bars – an easy way for children to save cash and a trip to the bakery while showing their dads they care.
4. Week of Special Lunches: For fathers who bring lunch to work every day, a week's worth of his favorite sandwiches accompanied by a special note will make it feel like Father's Day every day.
Cheap Father's Day Gifts with a Personal Touch
5. Memorable Key Chain: Every father loses or misplaces his keys at some point, and for under $10, Father's Day gift givers can remind dads of how much they're loved with a key chain from Cafe Press that includes a simple heartfelt message or any other custom personalization.
6. Funny Grilling Apron: It's a truth universally acknowledged that all dads like to try their hand at grilling and barbecuing. A personalized apron with a funny or heartfelt message may encourage him to cook more often (Mom will like this one, too!).
See all 13 cheap Father's Day gift ideas: http://www.gobankingrates.com/savings-account/13-cheap-fathers-day-gifts/
For questions about this report or to speak with a GoBankingRates.com editor, please use the contact information below.
About GoBankingRates.com
GoBankingRates.com is a national website dedicated to connecting readers with the best interest rates on financial services nationwide, as well as informative personal finance content, news and tools. GoBankingRates.com collects interest rate information from more than 4,000 U.S. banks and credit unions, making it the only online rates aggregator with the ability to provide the most comprehensive and authentic local interest rate information.
Additionally, GoBankingRates.com partners with a number of major media outlets such as Business Insider and US News & World Report to provide compelling and edifying personal finance content. Its expert editors have been featured and quoted on several premier finance websites like Yahoo! Finance, Forbes, The Street, Huffington Post and more.
Contact:
Jaime Catmull, Director of Public Relations
GoBankingRates.com
JaimeC(at)GoBankingRates(dot)com
310.297.9233 x261
Image by Sugar Daze via Flickr Creative Commons
Sources:
CreditDonkey.com, Survey: Father's Day Statistics 2013, June 3, 2013.
United States Census Bureau, Profile America Facts for Features - CB12-FF.11, May 2, 2012.