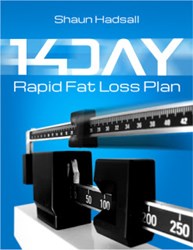 (PRWEB) June 25, 2013
Daily Gossip, an online publication containing articles related to lifestyle, health and sports news, will expose the 14-Day Rapid Fat Loss Plan to all its readers in a special article.
The author of the book, Shaun Hadsall, has agreed to answer all the questions that readers might have in relation to his diet. In addition, customers who will decide to try the "14-Day Rapid Fat Loss Solution" will receive online and offline support from the author himself.
The author of the book has created a 4-step diet Plan that guarantees to have results after just 14 days. The regime was designed by taking into consideration the biggest diet mistakes that people do each and every day.
The first advice that Hadsall gives to his readers is to stop following low-carb diets. The regimes that nutritionists have recommended in the past years have had negative effects on their digestive systems and now, calories and fats are consumed at a much lower rate. The best methods would be, according to Hadsall, to alternate low and high-carb days, so the body would never stop responding to the caloric intake.
The second step that followers would have to make is to understand how carbs are consumed and stored by their bodies. The book written by Shaun illustrates and explains why people need to opt for a high-carb diet instead of a low one. The author uses plain words, so readers can easily follow and decipher his message without making too many efforts.
Even though he contradicts most of the findings that have been presented so far, Hadsall admits that consuming carbs at the right period of time enables people to lose weight in a shorter period of time.
The morning hours represent the most appropriate interval to consume these products, but people may also indulge in the consumption of their favorite products after workout sessions.