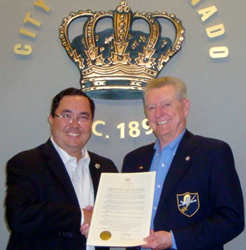 Treat people the way you want to be treated, truthfully with dignity and respect
Coronado, CA (PRWEB) July 02, 2014
Realty Pilot, a 7-year-old company that develops enterprise software and data analytics to manage assets in the Real Estate Industry, is announcing that the company's Chairman of the Board, Leonard Paul Kaine, the President and Founder of the Golden Rule Society, has been recognized by the Coronado, California Mayor and full City Council for his work with the Golden Rule Society. Chairman Kaine's Golden Rule Society has been acknowledged for its leadership and dedication in helping veterans, patriots, children, churches, charities, and benefiting families throughout the world.
Kaine, a decorated US Navy Captain, retired Fighter Pilot and two-time Nobel Peace Prize Award Nominee (2014 and 2003) has devoted much of his post-military career to serving his fellow man through his philanthropic organization, The Golden Rule Society. Kaine updated the Golden Rule from the books of the world's eight major religions to say "Treat people the way you want to be treated, truthfully with dignity and respect."
The Golden Rule Society's philosophy is…"To better the lives of others is your life's greatest reward"; while its ultimate goal of peace on earth with liberty and justice for all, are noble ideals to help make this a better world.
Mayor Casey Tanaka presented Kaine with the proclamation that July 1, 2014 through July 7, 2014 would be recognized as "Golden Rule Society Week."
"We are immensely proud of our Chairman!" states Christian Broadwell, the CEO of Realty Pilot. "He is a true and selfless leader who clearly demonstrates his desire to serve others throughout the world and to pass on a simple philosophy of treating people with dignity and respect."
John Murray, Realty Pilot's President and CTO added, "When Len agreed to serve as our company's Chairman of the Board, we knew that we had someone serving as our leader that all present and future employee's, vendor partners, and customers could admire and respect."
About RealtyPilot
Realty Pilot, LLC is a cloud-based SAAS provider with core technology centered on increasing efficiency and eliminating redundant data entry through automation. Realty Pilot solutions are easy to use, Department of Real Estate compliant and are SOC I Type II certified for security, safety, reliability, integrity and scalability by the American Institute of CPA's (AICPA). Current solutions include a free online offer management called Offer Runway and a comprehensive back office management solution called Concourse 360, an enterprise software offering robust features built into one centralized location. A user can manage listings and sales, offers, complete and track tasks, Broker Price Opinions (BPOs), bids, work orders and expenses as well as utilize a fully functioning Customer Relationship Manager (CRM), messaging system, mobile application and perform open to close transaction management with complete offer management integration all from a single solution. The automated BPO solution includes nationwide MLS data integration and submission to all major platforms and asset companies with a browser plug-in allows which allows for 1-click submission. The new acquisition feature allows brokers to solicit inventory to large hedge funds and investors based on established buyer criteria. Live chat support is available 16/5 for all users.
For more information, visit http://www.RealtyPilot.com.