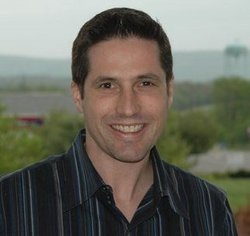 "D.C. is a great area to start a tech company," Mendenhall said. "You just need to have the drive and know where to look."
Washington, DC (PRWEB) February 18, 2010
Scott Mendenhall is debuting a new speaker series at entrepreneur hotspot 1410Q in downtown D.C. on March 3.
Mendenhall will give a talk entitled "Lessons Learned Starting, Growing and Selling Technology Companies in the D.C. Area." He will cover his entrepreneurial beginnings and share how he secured financing, grew business, and found buyers for his successful startups.
Mendenhall has been a tech and entrepreneurial force in the D.C. metro area for 14 years. He cofounded internet consultant company M23 in 1996, which was sold in 2005, and cofounded virtual serving hosting provider OpenHosting in 2000, which was sold this year. Mendenhall has also worked for numerous D.C. tech successes including Proxicom, NavigationArts, IXI and Ironworks.
"D.C. is a great area to start a tech company," Mendenhall said. "There is available funding, a broad and unique client base, and a host of talented, tech-minded individuals. You just need to have the drive and know where to look."
Mendenhall's talk is part of a new speaker series offered by innovation hotspot 1410Q, which opened in January. The center, located at 1410 Q Street N.W. in Dupont Circle, aims to bring entrepreneurs together in a collaborative work and idea-sharing environment. For a list of upcoming events at 1410Q, visit http://go.1410Q.com/events.
Isaac Mosquera, cofounder and chief technical officer of PointAbout Inc., the creator of 1410Q said, "This is what 1410Q is all about—having someone like Mendenhall who is well-known in the community share knowledge about creating a startup. We're happy to have him as our first speaker."
The event runs from 6 p.m. to 9 p.m. on Wednesday, March 3, 2010. To register, visit http://1410q.eventbrite.com. Tickets are free but space is limited.
About 1410Q:
1410Q is not a networking space. You can go anywhere to network. 1410Q is a safe environment for technology entrepreneurs to explore what they are capable of, surrounded by other tech entrepreneurs. Think of it as a little piece of San Francisco, right in the heart of Washington, D.C.
1410Q is a place where thought leaders stop in, either by invitation or while they are in town on other business, to have an intimate environment in which to discuss and share topics affecting them. It is a place where innovation happens and is shared. Visit http://www.1410Q.com for more information.
###