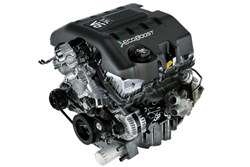 The used GM 4-cylinder models that we are now selling through our website come from junk yards and other secondary resources to keep prices lower for consumers
Atlanta, GA (PRWEB) October 31, 2015
The over-boost technology now used inside of small block motors at the General Motors company is helping to introduce auto buyers to increased power levels. The Preowned Engines company is now able to retail Ecotec Turbo 1.4L 4-cylinder engines as part of its used products upgrade this month. Data about these blocks can be reviewed at http://preownedengines.com/ecotec-turbo-1-4-liter-used.
The Generation III GM motors that are now made available through the POE website are the LUJ and LUV editions. These RPO models are considered a direct fit replacement for the Encore, Cruze, Sonic and Aveo vehicles. The turbocharged technology that is found inside of the stocked 1.4L units has been checked and cleared of any errors.
"The used GM 4-cylinder models that we are now selling through our website come from junk yards and other secondary resources to keep prices lower for consumers," said one parts expert from the PreownedEngines.com website.
The OEM blocks that have been acquired through deals with auto salvage companies will retain the standard warranty protection that is available with all orders at the POE company. Parts that are excluded from protection will be listed in the warranty plans that are provided with every 1.4-liter block sold.
"Our products for GM vehicles are selected for low block mileage as well as the year of production to expand the quality of our inventory online," the parts expert added.
The Preowned Engines company has been working towards refining its searchable database to eliminate the need for SKU number data. The system updated this month can be accessed with a lesser amount of vehicle data to help consumers research products and pricing faster.
About PreownedEngines.com
The PreownedEngines.com company showcases its inventory derived from USA salvage companies on its growing website. The company adds new block numbers and SKU information for the public to compare. The PreownedEngines.com company has updated its service and sales staff with more experts that help process consumer requests this year.