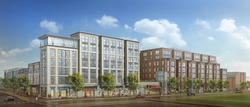 The YMCA mixed-use development at 14th and W is a key step toward the final transformation of the U Street area
Washington, DC (PRWEB) November 29, 2010
Perseus Realty, LLC (Perseus Realty) of Washington, D.C. and its joint venture partner Jefferson Apartment Group (JAG) of McLean Virginia will begin construction shortly on a new mixed-use development at 14th and W Streets, N.W. in Washington, D.C. The approximately 300,000 square foot project will have 231 rental apartments, an all-new 44,000 square foot YMCA facility, and over 10,000 square feet of ground-level retail space. With equity financing from Rockpoint Group, L.L.C. and a $53 million construction loan from Wells Fargo Bank, NA, the development team will begin demolition of the existing buildings in early December. The state-of-the-art YMCA and first apartments will deliver in summer of 2012, with the remaining apartments delivering by fall of 2012.
"The YMCA mixed-use development at 14th and W is a key step toward the final transformation of the U Street area," said District of Columbia Councilmember Jim Graham (Ward 1). "Moving forward and overcoming obstacles is very good news for the District of Columbia and Ward One. I am pleased to have worked to ensure support from the community and the District government."
In 2007, following an extensive competitive process, the YMCA of Metropolitan Washington selected Perseus Realty to redevelop the historic YMCA Anthony Bowen, the first African American YMCA in America when it opened in 1912. The global economic recession, however, put the project on hold. Perseus Realty teamed up with JAG, formed last year by former East Coast principals of Texas-based multifamily developer JPI, to co-develop and recapitalize the project equity.
"The long-awaited realization of this project indicates the strength of the Washington regional economy, the U Street corridor, and the area's multifamily market," said Robert L. Cohen, President of Perseus Realty. "It has become easier to obtain financing for well-located assets with strong equity partners and experienced developers like JAG and ourselves. Many people were instrumental in bringing this project to fruition, especially Council members Jim Graham (Ward 1) and Jack Evans (Ward 2) and our partner Fred Greene of minority-owned FLGA Real Estate Group."
"14W will help meet burgeoning demand for rental apartments in the District, which now has a vacancy rate below three percent," said Gregory A. Lamb, Executive Vice President of Jefferson Apartment Group. "It will provide residents with unparalleled amenities and convenience."
YMCA Anthony Bowen was founded by a former slave who purchased his freedom from a plantation owner for $425 in 1852. For the rest of his life, Bowen worked to produce an enduring legacy in the nation's capital. "This project will ensure that Anthony Bowen's legacy is respected and appreciated for its remarkable contributions to our community and to this country," said Angie L. Reese-Hawkins, President and CEO of the YMCA of Metropolitan Washington.
"Not only did this Y survive decades of civil unrest, economic hardship, and racial conflict, but it also continues to serve as a metropolis for African American intellectual and cultural life, nurturing some of the greatest leaders in our history," Reese-Hawkins continued. "YMCA Anthony Bowen will honor the past and celebrate the present while laying the foundation for our future with programs primarily focused on youth development, healthy lifestyle, and social responsibility." The new mission-driven YMCA facility will maximize opportunities for community interaction with features such as a 25-meter indoor swimming pool and locker rooms, wellness center, child care rooms, rooftop terrace, community rooms, offices, and much more.
14W's apartments will provide residents with the opportunity to live just steps away from Metro and the vibrant nightlife of Washington's historic U Street corridor. In addition to 212 luxury market-rate one- and two-bedroom apartment homes, 14W will offer 19 apartments permanently designated as community housing for residents earning up to 60 percent of area median income. All of the 14W apartments will have open, airy floor plans with stainless steel appliances, natural stone flooring in the kitchens, and spacious walk-in closets. Select units will feature bay windows or Juliet balconies. Along the 14th Street façade, shops and restaurants will serve customers behind restored historic townhome facades. Hellmuth, Obata & Kassabaum, Inc. (HOK) and Davis Carter Scott Ltd. are the project architects. Clark Construction is the general contractor.
14W residents will enjoy a wide range of amenities including free one-year membership to the YMCA, controlled building access and private parking garage, and contemporary party room with billiards, a business center with 24-hour Internet access, a movie screening room, a catering kitchen, and a bar with flat panel televisions. The plush lobby, attended by a concierge around the clock, will feature a striking glass-walled fireplace. Residents also will have access to a private lushly landscaped rooftop garden.
Perseus Realty, LLC is a real estate firm specializing in commercial property investments and development of office and residential properties. Perseus Realty has intentionally focused its development efforts on select regional markets where it possesses in-depth knowledge of market conditions and is able to maintain a close management and control of its investments. The company's current portfolio of commercial and residential developments is valued at over $700 million. For more information, visit http://www.perseusrealty.com.
Jefferson Apartment Group was founded in 2009 by James A. Butz and Gregory A. Lamb, former East Coast principals of Texas-based multifamily developer JPI. Together with investors from Akridge of Washington, D.C., they completed the buyout of JPI East. The company develops successful luxury mid- and high-rise communities in urban areas, as well as mixed-use projects and garden-style communities in suburban markets. For more information, see: http://jeffersonapartmentgroup.com.
###