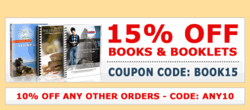 Hudson, WI (PRWEB) November 07, 2011
A couple times a year, the marketing folks at Docucopies.com let their friend Crazy Jim out of his holding cell to rant and rave incoherently about a topic which he can never seem to say enough about: books. More specifically, Jim is ecstatic about rare additional savings on spiral, comb and perfect bound books, as well as stapled (saddle-stitched) booklets.
While many savings-savvy consumers are already well aware of Docucopies.com's low prices on color copies, flyers, brochures, and books, most aren't aware that when Crazy Jim is unleashed, books and booklets are discounted at 15 percent off the normal price. This is a special occasion, because it's only during these special holidays when discounts this large are given. Normal discounts for books and booklets do not often surpass the usual 10 percent discount.
"This is good timing for the holiday season," says Marketing Director/VP Jeff Corbo. "Many people are making calendars, cook books or photo books to give to family members for the holidays. This helps them save more money at a time when everyone seems to need as much savings as possible."
This promotion runs through Tues., Nov. 15, and also includes 10 percent off other product types.
For more information on their printing services for color copies, brochures, flyers, post cards, and of course Crazy Jim's books and booklets, log on to http://www.docucopies.com. You can also follow the latest news, promos and discounts on Facebook at http://www.facebook.com/docucopies.
###