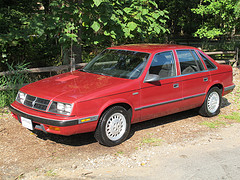 We are one of the few companies that supply automotive parts for Eagle brand vehicles, and we've adjusted our shipping programs to help people to benefit
Saginaw, MI (PRWEB) May 25, 2015
The Jeep-Eagle division of the Chrysler Motor Corporation is now among the brands now eligible for zero freight charges at the Preowned Engines company website this year. All in stock 1.5L Eagle Summit engines in used condition are now shipped without regular charges for freight at http://preownedengines.com/used-1-5-eagle-summit-engine.
This new program will apply to motors for the Summit 4-door sedan or 2-door coupe models. These 4-cylinder engine blocks are rated either 89 or 92 horsepower depending on the year of production. The promoted elimination of freight charges is one brand new customer incentive that is designed to remain in place indefinitely.
"We are one of the few companies that supply automotive parts for Eagle brand vehicles, and we've adjusted our shipping programs to help people to benefit," said one Preowned Engines company expert.
The motor blocks in stock for the Summit and additional Jeep-Eagle vehicle brands include all models produced between 1989 and 1996. While the shipping fees elimination is one example of new incentives, consumers will still benefit from the lowered price levels for all used inventory announced earlier this month.
"We have added more Chrysler brands to our front mounted motor inventory on our website this year as a way of filling the void in some markets in the USA," the expert included.
The Preowned Engines company is now setup to take web orders through its 2.0 e-commerce system on its website. After a price is reviewed and locked in for a customer, the ordering center can now be utilized to process shippable orders.
About PreownedEngines.com
The PreownedEngines.com company leads the second hand auto parts market for motor sales in the United States through its website. The company has created a private network of thousands of dealers that distribute its ordered inventory daily. The PreownedEngines.com company website displays inventory numbers, price information and details about warranties for consumers.