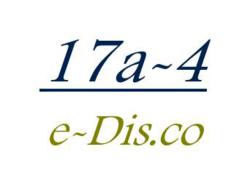 Many of our clients have successfully implemented a records/ e-messaging architecture that allows cost-effective and timely production of content regardless of the originating platform or format.
Millbrook, NY (PRWEB) January 09, 2012
17a-4, llc announces three new interfaces as part of the DataParser 7.0 release. The new interfaces include: NewsGator®, Oracle® ATG Web Commerce and UBS Chat®.

The NewsGator interface was deployed at a large mutual fund to capture NewsGator social media content and format it for ingestion into their institutional archive. The DataParser formats NewsGator content as email records. This enables the current institutional supervisory, e-Discovery and legal procedures to now include NewsGator sites, blogs and communities.
A large insurance company deployed Oracle's ATG Commerce Suite to support chat conversations through their web site. The chat facility assists customers in finding content or answering their questions. However, these chats are considered communications by the SEC and FINRA and fall under such regulations as Rule 17a-4 and 3010. The DataParser captures these customer chats and formats them as email records. These conversations are then incorporated into the insurance company's current archive for retention and supervision.
UBS Chat is used by many investment firms to communicate with customers and trading partners. These chats are downloaded by the DataParser, formatted as email records and ingested into the investment firm's archive. The DataParser also tags the chats with metadata content which allows the compliance and legal teams to easily find specific chats by user.
"Our philosophy is to provide software enabling our clients to capture and format e-messaging content so that their institution has a unified, normalized archive. This simplifies e-discovery and legal holds as all content is in a single repository rather than spread throughout the organization," says Charles Weeden, Managing Partner, 17a-4. "Many of our clients have successfully implemented a records/ e-messaging architecture that allows cost-effective and timely production of content regardless of the originating platform or format."
# # #