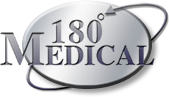 Some parents worry when they find out that their child will need to perform self-catheterization, they worry about proper usage and they worry about their kids being able to handle the process
OKLAHOMA CITY, OK (PRWEB) July 09, 2012
180 Medical is releasing two new self-catheterization instructional books for children, "Ethan Can Cath!" for boy readers and "Emma Can Cath!" for girls. The new book is split into two distinct sections. The first section is a story written by Angela Ruzicka, the acclaimed children's author and creator of the popular "Wendy on Wheels" book series, a collection of books that has a wheelchair bound character. The instructional section was written by 180 Medical and gives parents information on different types of catheter products and how to use them.
Todd Brown, the Founder and CEO of 180 Medical, wanted to give his children a book that would not only answer patient and caregiver questions, but also make young catheter users more at ease with using catheter products. "Some parents worry when they find out that their child will need to perform self-catheterization, they worry about proper usage and they worry about their kids being able to handle the process, " Brown said, "Children can also feel anxious about using a catheter by themselves for the first time. That's why we wanted to create a resource for these families, to help make their adjustment to their daily routine a little easier and put the minds of parents and their children at ease."
The story section of the book, "Ethan and Emma's Field Trip", is about two young children, Emma and Ethan, who are using their catheters on their own for the first time while on a school field trip. The rest of the book contains detailed instructions (for both children and parents) on proper catheter usage, and in-depth information on types of catheters available.
180 Medical is one of the largest Nationally Accredited providers of sterile use catheters, urologic, and disposable medical supplies in the country. The company also has self-catheterization instructional DVDs, booklets, and online portals for men and women. The children's books are complimentary for 180 Medical Kids Club members; to join for free, visit http://www.180medical.com/kidsclub.