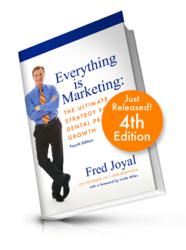 This book is a must-read for every dentist and everyone on the team -- Howard Farran, founder and CEO of DentalTown.com
Los Angeles, CA (PRWEB) May 08, 2012
Fred Joyal, co-founder of 1-800-DENTIST®, today released the 4th edition of his best-selling dental marketing book, "Everything is Marketing: The Ultimate Strategy for Dental Practice Growth." This new release introduces updated strategies to help dentists maximize the benefits of new marketing channels, including patient reviews, Facebook Timeline, and new technology like smartphones and iPads.
The first edition of the acclaimed dental marketing how-to book was published in 2009, drawing on Joyal's 30+ years experience in advertising and dental marketing. In the latest version, Joyal addresses changes in the rapidly evolving digital world, including an entire new chapter devoted to online marketing. The new content explores topics like Google optimization, Groupon, how to respond to negative reviews, monitoring dentists' online reputation and incorporating new digital technology into the practice.
"This book is a must-read for every dentist and everyone on the team," said Howard Farran, founder and CEO of DentalTown.com. "Fred Joyal shows dentists how to think about their business from a marketing standpoint, and offers dozens of ways to put that knowledge to practical use."
Joyal's book also includes an explanation of how Facebook's newest layout changes affect the dental practice, a section added just days before going to press in order to be as up to date as possible. In addition, it unpacks social media phenomena like Google+, Living Social, Twitter, text messaging, and search engine optimization – all of which play a part in a complete dental marketing strategy for modern dentists.
"The online marketing world is exploding with change" said Fred Joyal, author and co-founder of 1 800-DENTIST. "Dentists need to meet the expectations of tech-savvy patients, who want to interact using new media and in new online spaces. My book shows them how."
"Everything is Marketing" can be purchased at http://www.1800dentist.com/fred or on Amazon.com. It's available as hardcover, audio book and Kindle, with special pricing available for group purchases of 10 or more. Dentists who own previous versions of the book can also request a free copy of the new online marketing chapter by emailing fred(at)1800dentist(dot)com.
About 1-800-DENTIST®
Founded in Los Angeles, California in 1986, 1-800-DENTIST® is the nation's premier dental marketing company, offering new patient leads, patient communication and online marketing tools. The company has matched over 7 million patients with member dentists through their 24/7 call center and via their website, 1800dentist.com. Their Patient Activator service is the official patient reminder service of the American Association of Dental Office Managers. For more information, visit http://www.1800dentist.com/dentalmarketing.
Contact: Betsy Roddy, 1-800-DENTIST®, 310-215-6535