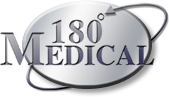 OKLAHOMA CITY, OKLAHOMA (PRWEB) February 02, 2012
180 Medical, a nationally recognized supplier of catheters, is pleased to announce that their CEO, Todd Brown, is the focus of a video created by the Christopher & Dana Reeve Foundation. The video highlights Brown's experience with a spinal cord injury and his success in dealing with it, both personally and professionally.
When Todd Brown was paralyzed in a motocross accident in 1994, he kept a very positive outlook about the injury. The biggest challenge of his new condition was the fact that he had several urinary tract infections consecutively. The discovery of catheters specifically aimed at reducing the occurrences of UTIs changed Brown's life.
Armed with his new information, Brown could think of nothing better than to share his knowledge with other people. Thus, he created a company whose purpose was to turn people's lives around as his was, and 180 Medical was born.
The aim of 180 Medical is to not only supply people with single-use catheters, but also to educate them about the products. The company makes a point of having a knowledgeable staff on hand to instruct customers on the catheterization process, including helping customers find the catheter types that were recommended to them by their doctor.
The Christopher & Dana Reeve Foundation is a non-profit organization dedicated to finding a cure for spinal cord injuries. Through education, funding and advocacy, the organization seeks to help those with spinal cord injuries enjoy the highest quality of life.
Being highlighted on the Christopher & Dana Reeve Foundation website only broadens the scope of Todd Brown's vision. By reaching more people with his inspirational success story, Brown's goal of changing lives can be realized even more fully.
The segment is featured on the Christopher & Dana Reeve Foundation's video page, under the success stories category. Click here to view it.
About 180 Medical:
180 Medical is one of America's fastest growing Nationally Accredited providers of sterile-use catheters, urologic, and disposable medical supplies. Based out of Oklahoma City, Oklahoma, 180 Medical is used as a referral source for some of the top rehabilitation facilities, paediatric hospitals and urologists in the world because of their extensive knowledge and customer care. The company has offices across the country and their products are covered by thousands of health plans, insurance networks, Medicare, and state Medicaid programs.
For more information on 180 Medical, visit: http://www.180medical.com/
###