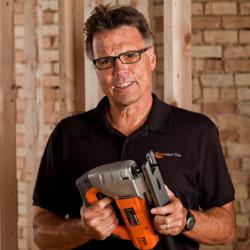 Through our Facebook page, we're going to be giving away one brushless Hitachi tool each week, and in the final week of May, we'll be handing out a two-piece brushless combo kit
Grand Rapids, MI (PRWEB) May 03, 2012
Hitachi is introducing the two latest additions to their 18V lithium-ion brushless line, an 18V impact driver and 18V hammer drill, and the members of the ToolSelect community are quick to discuss these new tools as well as brushless technology in general. To add to the fun, ToolSelect will be giving away four brushless Hitachi tools in May, one each week.
Both new tools are powered by high-capacity 3.0Ah lithium-ion batteries and are designed to run 50% longer between charges with increased power and durability. Each also carries Hitachi's lifetime lithium-ion-tool warranty and two-year lithium-ion battery warranty.
The DV18DBL 18V hammer drill claims 654 in-lbs of turning torque for professional-grade power. A 22-stage clutch features 22 torque settings, a hammer setting and drill setting, all controlled by a single clutch ring. For increased durability, the tool uses an all-metal ½" ratcheting keyless chuck with carbide inserts to secure the bit when hammering into concrete.
The tool can operate from 0-400 RPM to drive fasteners in the low mode and can also get up to 1,800 RPM and 27,000 BPM on the hammer setting.
The WH18DBDL 18V impact driver features 1,420 in-lbs of turning torque and is intended for heavy applications such as working with carriage bolts, driving lags and sinking deck screws, and the tool can also drill into wood, metal and concrete.
Four microprocessor controlled speeds, up to 2,600 RPM and 3,200 PBM are designed for the user to control the amount of power needed for the task. A ¼" hex chuck lets users change bits quickly.
"We're excited about our Hitachi giveaways in May," says Gerry Barnaby, Director of Excitement with ToolSelect. "Through our Facebook page, we're going to be giving away one brushless Hitachi tool each week, and in the final week of May, we'll be handing out a two-piece brushless combo kit. Our members are going to jump at the chance to try to win these tools and experience brushless technology for themselves."
About ToolSelect
ToolSelect is an unbiased community powered by its members that covers all aspects, types and brands of tools, but does not actually sell any tools. ToolSelect's members include everyone from experienced tradesmen to complete novices. Users trade tips, compare notes, debate their favorite tools and work together to help each other make intelligent purchasing decisions.
Like ToolSelect on Facebook (ToolSelect)
Subscribe to ToolSelect on YouTube (toolselecttv)
Follow ToolSelect on Twitter (toolselectmedia)