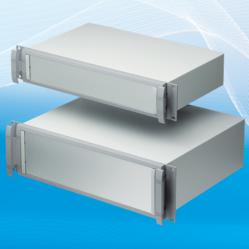 Customization options have increased significantly in recent years with the advent of new technology.
Bridgeville, PA (PRWEB) February 29, 2012
METCASE has extended the number of customization options available for its popular UNIMET 19" rack case range.
Customization for UNIMET now includes a much wider range of painting and logo/legend printing options, in addition to milling – providing complete fully finished housings for components.
Enclosures can be painted in any desired color combination. Textured finishes and wet paint processes are also available on demand with a minimum order quantity of just 10 to 25 units, depending on the color.
METCASE's stylish UNIMET 19" rack mount enclosures have been designed for applications including test and measurement devices, audio and video systems and networking and communications equipment.
UNIMET 19" cases are available in depths of 11.02" and 14.96" and in two standard heights: 2U rack case and 3U rack case.
UNIMET 19 inch rack enclosures are painted in a modern fine textured light gray, RAL 7035, and window gray, RAL 7040, color combination. The attractive design and finish is suitable for equipment which is designed for both rack mounting and desktop applications.
Each UNIMET aluminum rack mount case consists of a diecast front bezel which locates on the fabricated case body.
The stylish front bezel incorporates the rack mounting ears and unique ergonomic 'comfort handles' for maximum comfort when carrying and loading into the rack. The base panel can be removed separately. It includes mounting points for PCBs, assemblies and accessory ABS tilt feet.
Anodized aluminum front panels are available as accessories and are located into a recess in the front bezel.
The front panels include two ABS trims which hide the fixing screws and allow for fitting of a membrane keypad or product label.
The removable rear panel is also recessed to provide protection for power inlets, connectors, on/off switches and fan grills.
Prices for UNIMET 19 inch enclosures start at $152.
METCASE is the aluminum enclosures division of OKW Enclosures, Inc. METCASE Vice President, Sales, Sean Bailey said: "Customization options have increased significantly in recent years with the advent of new technology.
"Minimum order quantities are low so more and more customers are choosing customized enclosures," he added.
Features of UNIMET 19" rack cases:

Stylish range of 19" rack cases in aluminum
Conforms to DIN 41494 and IEC 297-1
Heights – 2U and 3U in two standard depths
Attractive diecast front bezel incorporating
Unique comfort handles and rack mounting ears
Robust folded case body with removable base
Removable rear panel
Front panel (accessory) recessed in bezel for location of membrane keypads
Mounting holes in base for PCBs
Molded feet (accessories) can be fitted to the base panel for table top applications
Cases supplied fully assembled
Materials – aluminum
Protection Class – IP40 (Not rated)
Standard colors – front bezel, window gray (RAL 7040); case body, light gray (RAL 7035), powder epoxy polyester paint
Contents – top cover, base panel, 19" front bezel, rear panel, M4 x 16 mm (x4), M3 x 8 mm (x6), M3 x 8 mm (x6), M3 x 8 mm (x4), front panel kit (accessory), ABS case feet (accessory)
Accessories – anodized front panel, molded ABS case feet and tilt feet, PCB mounting pillars kit, rack mounting kit.
UNIMET is one of a number of rack cases manufactured by METCASE: Others include:

VERSAMET – highly versatile 1U rack cases (fixed front panel)
COMBIMET – universal 1U, 2U and 3U rack cases with removable top and base
INSTRUMET – stylish 3U instrument cases for 19" subracks, chassis panels.
For more information about the UNIMET 19" rack case range, visit the METCASE website or contact Sean Bailey, Tel: 800-965-9872.
-Ends-
Notes For Editors
METCASE specializes in the design and manufacture of high quality aluminum enclosures for the electronics industry. The METCASE range has been designed to allow for modifications to be carried out with ease.
Special sizes and versions of the enclosures can be produced in batch quantities from as little as 10 units. This flexibility provides design engineers with an exceptional range of options for developing new products and variations.
METCASE is also the USA representative for the market-leading RETEX range of flat-pack 19" racks, 19" wall cabinets and SERIES 50 extruded aluminum enclosures.
METCASE is a division of the OKW Group.
OKW Enclosures, Inc
3000 Old Pond Road
Bridgeville, PA 15017
Phone: 412 220 9244
Fax: 412 220 9247
###