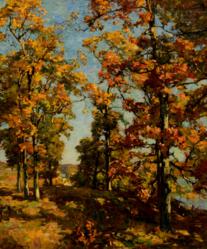 Charlotte, NC (PRWEB) June 26, 2013
The 11th annual Aspen Antiques & Fine Arts Fair, featuring a nine-day public exhibit, will be held July 6-14 at the Aspen Ice Garden. McColl Fine Art is proud to announce their participation in this year's Fair, presenting works of fine art.
The Aspen Antiques and Fine Arts Fair will be held in downtown Aspen, Colorado at the 16,000 square foot Ice Garden, which is an ideal location to showcase the finest art, antiques, furniture, silver and jewelry. The event is combined with the many Fourth of July holiday activities to produce a fun weekend for dealers and patrons.
McColl Fine Art carries traditional fine art, ranging from the 19th and Early 20th Centuries to present day classical contemporary works of art. Many of McColl's select works will be presented at the fair. McColl Fine Art features over 165 artists, whose works include contemporary, figurative, impressionist, post-impressionist, landscape, seascape, marine and still life paintings, as well as sculptures.
Many of the world's elite collectors and art connoisseurs attend the Aspen Antiques and Fine Arts Fair each year. An estimated 31 exhibitors from all over the country are expected to attend this year. Exhibitor setup will begin on July 4 and 5, while the fair will run from 10 a.m. to 6 p.m. July 6-13 and 10 a.m. to 4 p.m. on July 14. More information about the fair is available at http://www.aspenartfairs.com.
About the company:
McColl Fine Art is one of the premier fine art galleries in the country. Located at 126 Cottage Place in Charlotte, NC, McColl Fine Art specializes in fine American and European paintings with a primary focus on 19th century art and select works from early 20th centuries, as well as Classical Contemporary works of art. They offer works of exceptional quality from periods including the Barbizon School, the Hudson River School, Academic painting, Impressionism and Post-Impressionism. For an experience unlike many other art galleries, please visit their website at http://www.mccollfineart.com for more information.