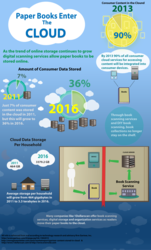 We're the first digital book scanning service to integrate with a major Web brand like Evernote
San Jose, CA (PRWEB) August 23, 2012
1DollarScan, the most affordable digital scanning service, today announced it's the first such service to fully integrate with a major Web brand in Evernote, one of the world's most popular ways to capture and remember Web content. Evernote users get a new kind of eReading experience with automatic access to digitally scanned books on the Web, or any eReader or mobile device (e.g., iPhone, iPad, Android, Nook, Kindle, etc.) at the best resolution and color quality.
Demand for Digitally Scanned Content
As Americans increasingly consume more digital content – driven by the proliferation of eReaders, tablets and smartphones – there's a growing need to view, preserve, and search their existing printed content on those digital devices. Americans own billions of printed books, and 2.77 billion printed books were sold in the U.S. during 2011 (source: Association of American Publishers and the Book Industry Study Group). So there is huge potential for 1DollarScan's services to continue growing in the U.S.
The digital scanning market spans a wide range of use cases, including everyday consumers, businesses, and professionals such as medical researchers, attorneys, accountants, and university professors.
"We're the first digital book scanning service to integrate with a major Web brand like Evernote," said Hiroshi Nakano, CEO of 1DollarScan. "Our integration with Evernote will help further expand our footprint in the U.S. market for any consumer or business. Our advanced scanning and operations software enables us to deliver the fastest, highest quality, and most affordable digital scanning service in the world."
A New Kind of eReading Experience
1DollarScan helps Evernote users to easily save and remember their comments and impressions of scanned books, expanding users' ability to "remember everything." Evernote users also get a new kind of eReading experience from 1DollarScan's patented Fine Tune technology, which enables consumers to view their digitized content much faster and at optimized resolutions and color quality than other digital scanning solutions. 1DollarScan digitizes and optimizes any kind of printed content (e.g., printed books, magazines, business cards, documents, photos, etc.) for easy viewing on every major eReader device, including all Android and Apple iOS devices, Amazon Kindle, Barnes & Noble Nook, Sony Readers, etc. The key benefits of 1DollarScan include:

Anytime, Anywhere -- Access and read digital content on any mobile device or laptop anytime, anywhere.
Best User Experience -- Users can access and read digital content more quickly with optimized resolution and color quality than other solutions. Users can easily search digitized content using keywords made possible by the company's Optical Character Recognition (OCR) technology.
Most Affordable – 1DollarScan is the most affordable content scanning service on the market today. Pricing starts at $1 for up to 100 pages for Books. For full pricing options, visit: http://1dollarscan.com/pricing.php.
Fast, Easy Sign Up
Consumers can quickly and easily set up 1DollarScan to work with Evernote by signing up here: http://1dollarscan.com/evernote/. Consumers simply mail their printed content to be scanned and digitized into PDF files by 1DollarScan. After the PDF file(s) is delivered, order details (e.g., book thumbnail image, book title and number books, amount paid, confirmation number, request and scan dates, etc.) and a download link of the PDF file(s) is automatically uploaded to an Evernote user's account as a new 1DollarScan "Notebook."
1DollarScan also works directly with paper books ordered from Amazon. For a complete overview on how 1DollarScan's services work, visit: http://1dollarscan.com/works.php. A full FAQ can be found at: http://1dollarscan.com/faq.php.
About 1DollarScan
1DollarScan is the most affordable and efficient digital scanning service in the world.
The company's mission is to help consumers and small businesses quickly digitize, preserve, archive, search, and view their existing printed content on any mobile device or laptop whenever they want. With cutting-edge operations and scanning software technologies, 1DollarScan is able to deliver the most affordable, highest quality solution on the market today. 1DollarScan is operated by zLibro, Inc. The company's U.S. headquarters is located in San Jose, CA. For more information, visit http://1dollarscan.com