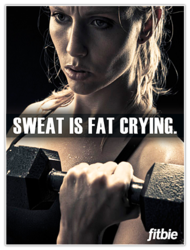 (PRWEB UK) 27 February 2013
A study has shown that just one in three people complete a serious workout whilst at the gym. Others admitted to procrastinating by watching sports, checking out the opposite sex and chilling by the pool. The study reported that some women are embarrassed by sweating and worried that their hair will become frizzy and their make-up will run. Others said that they weren't even sure how to use some of the machines and felt that they would look 'stupid' if they asked. Gymkit UK promotes exercising at home to avoid distractions. (source)
Nicole, Brand Manager for Gymkit UK and gym enthusiast said, "I feel really conscious about how I look when I'm at the gym. I tend to go early in the morning so that less people will see me sweating. I also feel as though I'm being watched by some of the men in the gym and it can be quite intimidating. I therefore also try to go to aerobics classes as there tends to be a lot more women than in the gym." By exercising at home, these sorts of things can be avoided. A lot of people may think that a treadmill or a cross trainer would cost them a lot of money, however Gymkit UK brings people commercial gym equipment at inexpensive prices. "I have to admit, I go to the gym with friends and we spend a lot of time talking and even pop to the cafe for a drink. My workout is probably not as intense as it could be if I wasn't sidetracked", said Tom, IT specialist for the company.
Gymkit UK is now in its twelfth year of trading and selling gym equipment such as treadmills, cross trainers, rowing machines, exercise bikes and weights. Their main customer base is made up of fitness enthusiasts that find it more convenient and also cheaper to have gym equipment at home rather than being a gym member. The company has been so successful that it is now Europe's leading gym equipment supplier. They export internationally and now supply over 50 retailers including department store John Lewis. Located in Whittlesey, Cambridgeshire, they have an on-site showroom which is open to the public Monday to Friday and all of their staff has advanced knowledge on the machinery that is sold. This means that gym equipment can be sampled before it is purchased and customers can leave knowing that they know how to use the machinery that they have bought fully. As the gym equipment is commercial grade it has been designed to endure hours of usage each day however should there ever be a fault, a fully qualified engineer will be sent out to rectify within 48 hours.
If you are an individual looking to purchase gym equipment, please contact Gymkit UK on 01733 205551 or alternatively visit their website - Gymkituk.com. Gymkit UK is also the sole UK distributer for Teeter inversion table products suitable for those that suffer with back problems.