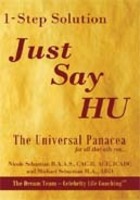 Now that I HU before bed, when I wake up in the morning, the Xanax is still on the nightstand, the ashtray is still empty and the Diet Coke is still unopened.
Los Angeles, CA (PRWEB) March 10, 2011
This book contains a Lost Secret that has the Power to Transform an individual in an instant. Two simple letters that when combined produce an intense yet Harmonious Vibration. HU...the Holy Grail of Life.
Traditional Rx treatment doesn't eliminate one's issues, it only masks the symptoms. HUing on the other hand, alleviates symptoms while addressing the cause. The HU Technique is simple and uses Sound. It's called HU (hue) and goes like this---HUUUUUUU. The HU is a universal tool that provides relief 100% of the time. It can be used for anxiety, nightmares, insomnia, centering, clarity, decision-making, harmony, and overall well-being.
Historically speaking, HU can be traced back to Egypt in 3000 B.C., and beyond. HU is the ancient, sacred, universal name for God found in Most World Religions. As a matter of fact, this is where the word Hu'man comes from...the God force within Man. Just Say HU to unfold spiritually, tap into one's higher-self, enhance intuition and confirm gut-hunches.
Scientifically, HU uses the Power of Quantum Physics, Vibration and Resonance which impacts the Central Nervous System almost immediately. HU acts like a tuning fork that re-tunes ones subatomic particles that harmonize and create a symphony of peace and tranquility within. Just like changing channels, when you change the frequency you change the behavior. HU is the one place where Science and Spirituality actually meet.
Based on 12 years of field-study, HUing can help one overcome addiction, eliminate stress and anxiety, stop nightmares and insomnia, end PTSD, it even conquers suicidal thoughts.
"HUing has helped me get over that obsessive, oppressive, urgent, seemingly hopeless drive to kill myself, and see other options, and indeed be a bit more optimistic about the future." -Will A. Washington
JUST SAY HU - HU Therapy Technique
Step 1 - Inhale
Step 2 - Exhale while saying HU (hue) HUUUUU (silently or out loud) eyes open or closed
Step 3 - Repeat (5-20 minutes daily)
"The HU cured my insomnia, and allowed me to sleep through the night for the first time in as long as I remember." - Joel C. California
"I was having a full-blown panic attack and the HU literally saved my life." -Lisa B. Texas
Remember...JUST SAY HU
1-Step Solution...JUST SAY HU: The Universal Panacea for All that Ails You
By Nicole and Michael Sebastian
$20.00 / Softcover / ISBN: 9781438981253
Available at any online or local bookstore.
Featured on A&E, E!, VH1, & countless others
Now married 15 years, Nic and Mike aka The Dream Team, met in a Dream 5 years before they met in a college classroom...
The Dream Team...Bridging Science and Spirituality
Co-Founders of "Divine Guidance Institute and Wellness Center Inc.," "The Dream Team – Celebrity Life Coaching" and Creators of the "Trust Yourself System" and "Trust Yourself Therapy,"
Delivering the Fastest Therapy, Most Reliable Decision-Making and Unparalleled Way of "Knowing" All in One...So You Never Get Blindsided Again.
Visionaries, Nicole and Michael Sebastian, M.A., ABD aka "The Dream Team" are Celebrity Life Coaches, Expert Decision Coaches, Authors, Celebrity Dream Experts, Relationship Experts, Certified Fitness Trainer, Nutrition Counselor, Certified Addictions Counselor, DUI Specialist, Behavioral Sociologist and Ordained Ministers.
Known as Modern-Day Oracles, they deliver Wise-Counsel using Traditional Methods coupled with the Unique Tools of Dreams, Sound, Synchronicity, Intuition, and Quantum Physics for Guidance and Direction. This is what "Trust Yourself" is all about.
###