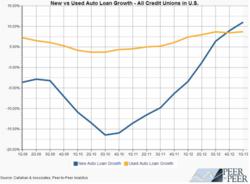 New car buying activity by members is certainly a factor in the [overall consumer lending] increase. New car sales are on the rise in 2013, with manufacturers posting monthly sales results not seen since prior to the Great Recession
Washington, DC (PRWEB) June 26, 2013
According to Callahan & Associates' analysis of AutoCount data from Experian, credit unions captured 14.3% of U.S. auto financing activity in the first quarter, slightly below the 14.6% captured in the first quarter of 2012. Overall consumer loan originations increased 10.9% compared to the first quarter of 2012 to $43.5 billion, and auto loans account for 30% of the total credit union loans outstanding as of March.
New auto loans posted the fastest growth of all components in the loan portfolio, increasing by 10.6%. This strong growth runs counter to the 4.0% decline in new auto loan balances seen in March 2012. Used auto loans also reported stronger growth, increasing by 8.2%, up from 6.6% in March 2012. It is worth noting that the higher overall loan volume is partially due to increased volume of car sales.
"New car buying activity by members is certainly a factor in the [overall consumer lending] increase. New car sales are on the rise in 2013, with manufacturers posting monthly sales results not seen since prior to the Great Recession," says Jay Johnson, executive vice president of Callahan & Associates. "Another factor of credit unions' continued efforts to lower members' monthly payments by refinancing auto loans initially financed with other lenders."
Credit unions continue to increase loan volume in all sectors. First quarter loan originations totaled $82.7 billion, a 14.1% increase from the first quarter of 2012. Credit unions posted new first quarter highs in consumer, first mortgage, and member business loan originations. Overall consumer lending, including auto loans and credit cards, accounts for over half of all originations.
Callahan & Associates is a Washington, DC-based firm that delivers in-depth analysis of credit
union quarterly performance through its proprietary software and financial publications. As a financial consultant, it also offers strategic planning and investment management for credit unions. Visit http://www.creditunions.com to learn more.