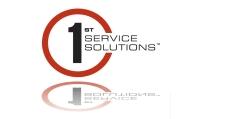 Dallas, TX and New York, NY (PRWEB) September 09, 2011
1st Service Solutions is proud to announce that Ann Hambly, founder and CEO, was selected as one of National Real Estate Investor magazine's 2011 Outstanding Women in Commercial Real Estate. Each year, National Real Estate Investor honors some of commercial real estate's most influential professionals in the industry. This year, only six individuals across the country were honored, including Hambly.
Hambly, known as the pioneer of borrower advocacy, founded 1st Service Solutions in 2005 as the very first firm dedicated to serving as a borrower advocate in loan restructuring and assumptions. With a vision of the future needs for the commercial real estate industry—and deep experience in the servicing industry--Hambly formed 1st Service Solutions even before the collapse of the commercial real estate market.
Hambly has over 30 years of commercial mortgage servicing experience and has served as the CEO and head of servicing for major institutions such as Prudential, Bank of America, GE Capital and Nomura. She was the first female chair of the Commercial Board of the Mortgage Bankers Association, and is currently on the Real Estate Roundtable President's council -- a very senior nominated position in the industry.
She has played a key role in commercial real estate by serving on committees that developed many of the industry standards that are in place today in CMBS (commercial mortgage backed securities). In addition, Hambly currently serves on a variety of task forces devoted to the furtherance of standards and improvements in commercial real estate.
To view the article online, please visit National Real Estate Investor magazine at http://digital-edition.nreionline.com/?iid=e95db179 and click on page 24.
About 1st Service Solutions
1st Service Solutions is a dedicated borrower advocate whose services include commercial real estate loan restructures, assumptions, defeasance, discounted payoffs and equity and debt solutions. Founded in 2005, 1st Services Solutions was the first firm to serve as a borrowers advocate and has resolved more than $4 billion in loans. The 1st Service Solutions team has deep servicing industry experience and can guide clients through the restructure process, resulting in a customized strategy that benefits all parties. From loan restructures to providing equity and debt, 1st Service Solutions is the complete solution for borrowers. For more information, please visit http://www.1stservicesolutions.com.
# # #