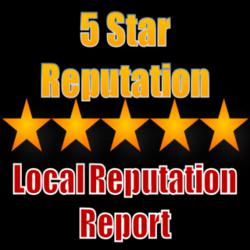 If you don't have a 5 star reputation online you are going to lose a large amount of business to your competitors who do.
Tampa, Florida (PRWEB) April 30, 2013
1st American Internet Marketing has a new tool for local small business owners so they can check multiple websites online to see if their company has negative reviews listed about their business. In addition, this new tool will also check and see if a company is listed in all of the major local directories such as Google Places, Yahoo Local, Bing Local, Yelp, Superpages and more.
Online reviews have become one of the most important factors helping local businesses get new clients from the internet. Consumers have learned it is very easy to check online reviews before they do business with a new company. Also, online reviews are reported to play a larger and larger part in how high a company ranks and is listed in the search engines such as Google, Yahoo, and Bing.
Tom Parker, owner of 1st American internet Marketing, says "If you don't have a 5 star reputation online you are going to lose a large amount of business to your competitors who do." The findings from the Local Consumer Review Survey of 2012 revealed that 72% of consumers trust online reviews just as much as a personal recommendation from a friend or family member. The report also showed that 85% of consumers use the internet to find local businesses. These figures are climbing higher from year to year and are much higher for younger consumers.
This tool, In addition to checking for negative reviews for a business, will check the local online directories to see if the company is listed and if the company has claimed the business listing. Mr. Parker also said, "being listed, and being listed correctly, in all of the top local directories is imperative if a company actually wants to get clients online".
The local reputation management report tool is set up to be very easy to you. The business owner just enters in the business phone number. The software then goes out, in a matter of a few seconds, and searches the online sites and returns a detailed report showing all of the negative reviews and also gives the business owner a rating of their online reputation from "Bad" all the way up to "5 Star."
About the company:
1st American Internet Marketing specializes in consulting with small business owners on the best ways to market their business online. They offer pay per click (PPC) marketing, SEO or search engine optimization, video marketing, and mobile platform design and marketing. The company also works with Google on the Google Engage program which is designed to help small business owners market their business online with Google Adwords.
How to Contact:
1st American Internet Marketing
10014 N. Dale Mabry Hwy #101A
Tampa, FL 33618
813-421-4259
http://1stAmericanInternetMarketing.com