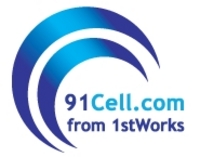 Boston, MA (PRWEB) December 16, 2008
1stWorks, a real-time interactive communications software company with solutions for secure collaboration, multimedia content delivery, conferencing and broadcasting, today announced 91cell.com, its web based, self service, mass notification system
91cell.com is securely hosted on our replicated servers with 24x7 access available for any organization which needs on demand email and text messaging to alert people to events and circumstances.
Immediate alerts might advise about school closings, schedule changes or even facility disruptions, such as a non-working elevator. And there are valuable advantages in scheduling alerts for automatic, pre-determined timed release, for example, announcements for new product releases for commercial companies or special offers, even medication reminders for pharmacy customers.
Once an organization has established its account with 91cell.com, the Organization Manager is assigned a password protected login and web link by email.
Executing that link from any web browser enables the Organization Manager to create Alert Groups within the Organization, for example, different member groups for Marketing and Engineering in a Company, or for individual buildings in an Apartment complex
Once the groups have been created, the individual Group members are emailed a link to access the 91cell.com servers directly to register their own contact details for Alert messages, their email addresses, their phone numbers for text messages, or both. Once completed, each member receives a confirming message validating their Registration at which point, the 91cell.com system is complete and ready for use.
Management screens for the Organization Manager show the Alert History for the Organization, as well as any pending or scheduled Alerts in process, for example, reminders about future meetings or rent payments due. Every Management screen also contains a bold "Compose Alert" button for fast and easy web access to the Broadcast system in the event an Emergency Alert is needed for immediate action. All Alerts are recorded by timestamp and by the identity and IP address of the Alert Message originator for security and for subsequent review..
91cell.com is available for immediate use, visit http://www.91cell.com and send yourself a test message to verify just how easy 91cell.com is to operate, and then contact us to set up your own organization and groups – security and simplicity in alert systems just got easier and, at $1/contact, it just became a lot more cost effective.
About 1stWorks Corp.
1stWorks Corporation is a real-time software communications company with solutions for secure collaboration, conferencing, and multimedia content delivery Ten thousand customers worldwide in more than 70 countries already use its hotComm software platform. 1stWorks was founded in 2000 by executives from several earlier successful companies, and is located near Boston, on the web at http://www.1stworks.com.
Corporate Contact:
Nigel Spicer
(508) 541-6781
nspicer(at)1stworks.com
###