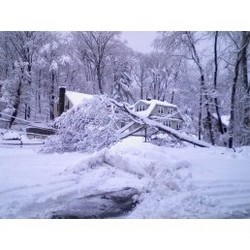 "We've heard from numerous clients reporting down trees on their property – across their yards, driveways and, for a few unlucky homeowners, through their roofs," said Daniel van Starrenburg, President of SavATree.
Bedford Hills, NY (PRWEB) February 27, 2010
SavATree's certified arborists and tree care experts have been busy helping Westchester residents by removing down trees, limbs and branches after a fierce winter storm ripped through much of the area – dumping damaging amounts of wet, heavy snow.
In addition to the snow, wind gusts of 35 mph are being reported. This combination has already brought down a countless number of trees. Downed trees will continue to plague the area through the weekend.
During a storm of this magnitude, the greatest threat to people, homes and automobiles are unsafe trees. Weak and unhealthy branches can't support the weight of heavy, wet snow and they give out. Wind poses an added threat. Strong gusts weaken already stressed branches and roots causing them to topple.
People have been advised to use caution around large trees.
What to do if tree damage occurs.
If a tree has sustained minor damage, such as injury to small branches, usually little to no permanent damage will be sustained. All that will be required is cleanup and perhaps a pruning to restore the tree's aesthetic appeal.
More severe damage such as large broken branches, split crotches, removal of bark, and splitting or splintering of the trunk are all common aftermaths of heavy winter storms. In this case, a tree service professional should always be consulted. Only certified arborists and tree service professionals can assess the damage and determine whether the tree can be saved. If the tree is diagnosed as unsafe, the certified arborists can facilitate its safe removal.
For assistance with a down or damaged tree, contact one of SAVATREE'S certified arborists and tree service experts in your area.
###