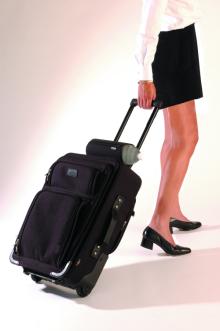 We want to make the travel experience as painless as possible for all travelers, especially those who travel a lot for business or pleasure
Southern Pines, NC (PRWEB) December 6, 2004
Necessity is the mother of invention. An airline pilot, bent on staying fit and hydrated especially when working, created Liquid Luggage™ to keep her water bottle attached securely to her luggage as she maneuvered through airports around the country. The result is a product tested and perfected over months of travel in the real-life, hurry-up conditions of carry-on baggage. Soon the word was out, and flight crew colleagues began requesting Liquid Luggage totes of their own.
Frequent flyers and other road warriors, who spend almost as much time aloft as the flight crews, also know the value of staying hydrated. Now, they can easily tote a bottle of water along without having it careen off of their luggage as they hustle to planes, up and down stairs and escalators, or through hotel lobbies.
Satisfied customers are the key to success. A recent Liquid Luggage purchaser, an airline captain for a US-based carrier, said: "After my first week using Liquid Luggage, I'm sold. This made my life so much easier. This is a great idea."
Made of durable Cordura® (the same material used for heavy-duty crew luggage), each tote has a special foam backing to keep the water cool. Liquid Luggage, made in the USA, comes in two sizes: 24-ounce ($9.95) and 1.5 liter ($10.95). Customized embroidery for personalization or special logos is available. To learn more, visit http://www.liquidluggage.com or call 910-693-1130.
Liquid Luggage is made by Travel Products, Inc., Southern Pines, NC. The company was founded early in 2004 by S.C. Kohn and specializes in travel accessories for the professional traveler. "We want to make the travel experience as painless as possible for all travelers, especially those who travel a lot for business or pleasure," says Kohn.
Contact:
Judi Anderson
888-736-5766
judi@kroegerpr.com
Kroeger Associates for Travel Products, Inc.
# # #