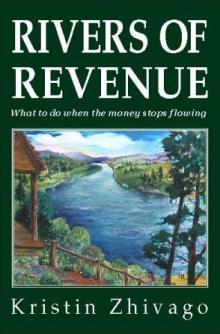 Jamestown, RI (PRWEB) December 5, 2004
Is someone you know struggling to attract new customers? Are they looking for ways to increase sales? Is it taking longer for their business to take off than they first assumed?
The perfect gift for any business owner—-regardless of the industry or size of business—-is Kristin Zhivago's new book, "Rivers of Revenue: What to do when the money stops flowing." The book can be purchased this holiday season at http://www.RiversOfRevenueBook.com, or http://www.Amazon.com, where readers have given it a 5-star average review rating.
"Perhaps your spouse has started a business, and has a really good product, but is having trouble finding enough customers to cover expenses...and the long-term prospects don't look very good," says Zhivago. "This book can help. It teaches business owners to market and sell any type of product, looking at it from the customer's perspective. It teaches them how to get in sync with customer desires and stay there, no matter what the economy is doing. It is filled with real-world, practical advice—-and none of the marketing jargon so common in other marketing books."
Jeffrey Tarter, Editor of Softletter, says "Rivers of Revenue" is "Likely to rank as this year's most important marketing guide."
Kristin Zhivago has been helping business owners and entrepreneurs increase their revenues for 35 years, in dozens of industries. She has interviewed thousands of customers and has found that companies are their own worst enemies when it comes to making sales. Her book gives entrepreneurs step-by-step guidance for finding new sources of revenue and optimizing them to the fullest. It also helps them avoid the costly marketing and selling mistakes that are made by almost all business owners.
The hardcover book "Rivers of Revenue: What to do when the money stops flowing," is 336 pages and retails for $24.95. It can be purchased directly from the publisher, Smokin' Donut Books, at http://www.RiversOfRevenueBook.com, or at Amazon.com. For more information, contact Smokin' Donut Books at 877-474-8738 toll free, or send an email to press@smokindonut.com.
# # #