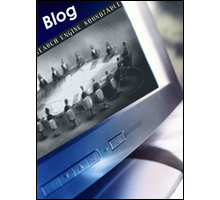 (PRWEB) December 10, 2004
The Search Engine Roundtable has been reporting on search engine marketing forums, search engine industry and search engine optimization topics for over one year now.  December 2nd was the informational site's first year anniversary.  The purpose of the Search Engine Roundtable is to report on search engine related topics that are popular within the niche search engine marketing forums.  By reporting on search engine marketing forum hot threads and posts, the Search Engine Roundtable can provide ground breaking industry news before the news hits the major publication channels.
There have been over 1,150 unique articles published at the Search Engine Roundtable over the past year.  That is over three unique articles per day, on the niche topic of search engine marketing.  With over ten expert authors sharing information, and dedicated sponsorship by the associate editor Benjamin Pfeiffer of Rank Smart Search Engine Marketing and editor Barry Schwartz, the site has become a real success.  Respected guest authors include; Shawn Hogan of Digital Point, Kim Krause of Cre8PC, Morgan Carey of SEO Guy, Dan Thies of SEO Research Labs and others have provided expert insight into the various sub sets of search engine optimization.
About the Search Engine Roundtable:
The purpose behind the Search Engine Roundtable is to report on the most interesting threads taking place at the SEM (Search Engine Marketing) forums. By enlisting some of the most recognized names at those forums, the Roundtable is able to not only report on these outstanding threads but also provide a synopsis that provides greater detail into those threads.
In addition, all authors have the leeway to step beyond forum coverage and either take a thread topic and expand on it or bring up a concept that was not found at a thread. We occasionally have some guest authors post on specialized topics in the search engine marketing field. Very rarely will you find posts here that are not related to search engine marketing.
The mission of this site is to provide a single source for the reader to visit to locate the most interesting threads covered at the search engine marketing forums. This will help you save valuable time clicking through the forum threads to find the true gems. In addition, most people are only active in one or two forums - this will allow for comparative advantage to take place between the major forums.
For more information on the Search Engine Roundtable please visit http://www.seroundtable.com/
About the Sponsor, RustyBrick, Inc:
RustyBrick is a New York Web development firm specializing in customized online technology that helps companies decrease costs and increase sales. RustyBrick's Web services include; Web page design, Web development,  logo design,  e-commerce, search engine optimization and search engine placement, various  Web seminars, and more Web technologies.
For more information on the RustyBrick, Inc please visit http://www.rustybrick.com/
###