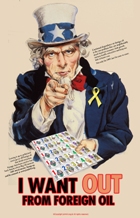 Rancho Mirage, CA (PRWEB) December 15, 2004
Every major self-interest group in the nation (i.e. the oil industry, defense contractors, utility companies, major banks and insurance groups and various foreign lobbyists and other high-powered corporations) - all have lobbyists in the halls of Congress and State capitols working that self-serving laws and grants are enacted in their favor regardless on the impact on working people and their community.
If the American tradition of lobbying politicians pays off for the bad guys, it can pay off for the good guys. All it takes is matching skills, support and money.
The average citizen has a double barreled incentive to buy America's Energy Freedom Stamps© to increase pressure on politicians for an energy policy that's not corporate welfare.
One. The dependence on foreign oil that funds terrorism has to be minimized and replaced by made-in-USA energy that already exists.
Two. Every American of all ages will want to naturally raise Cain on a day-today basis with sleazy, underhanded legislators that are owned and operated by corporate and foreign interests that would like nothing better than to suppress the truth about America's energy policy.
Send in you reservation today for Energy Freedom Stamps and get the FOIL billboards up tomorrow that will help make your representative accountable, answerable and responsive to you and not special interests.
Whoever says: That the average person can't compete against bag fulls of campaign funds, fistfuls of lobbyist credit cards, carte blanche at spiffy restaurants, fleets of limousines, private jets, hunting lodges - doesn't know beans about the public and you as an individual.
Pressure works! The White House and Congress will respond time and time again to in-your-face patriotism. But, only when they're convinced the people are serious. Minimum wage laws, workers compensation, child labor laws, women's right to vote, higher education assistance, occupational safety and health, unemployment compensation, civil rights - they are just a few of the accomplishments that came out of public debate and protest.
It's as simple as that. Your individual response is vital.
Contact: http://www.joinfoil.org
# # #