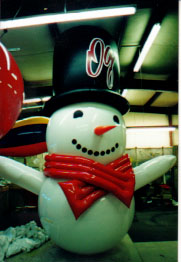 (PRWEB) December 20, 2004
Just when you thought you've seen everything magical that Christmas has to offer, along comes the Arizona Balloon Company to prove you wrong!
This 20 year old manufacturer of helium and cold air advertising balloons is presenting a gala Christmas exhibit of parade-size inflatable Christmas characters including one special angel that has never been seen before in public. This two day drive-by event is being held on December 23rd and 24th, 2004, from 3 PM – 10 PM, at the corner of 43rd Ave and Paradise Lane (just south of Bell road) in Phoenix.
According to Arizona Balloon President Johnny Mulder "We have such an amazing assortment of oversized Christmas characters including a dancing Santa, dancing snowmen and helium-filled Christmas ornaments that our friends and neighbors in the community rarely get to see. I thought that it would be nice if we set up a 100 or so of our favorites to help spread good cheer this Christmas".
And then there's Arizona Balloon's newest creation, the Master Hauser Golden Angel. This is a 40' reproduction of a 400 year old German tinsel doll first made in Nuremberg by a despondent doll maker to sooth his wife's sorrows over the recent loss of their child.
"This angel has special significance to our family", said Mulder, "and it has never before been seen in public".
To top off the event Mulder will be showing Slicks Left Prints, a real Arizona Paint Horse, who many people agree deserves the title of "World's Most Beautiful Horse", between 6 PM and 7 PM both nights.
###