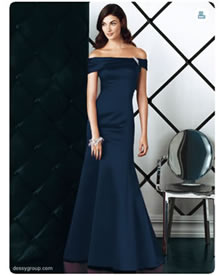 This year's styles, more than ever, are about fashion that bridesmaids will want to keep and wear to other occasions
(PRWEB) December 22, 2004
New York, NY (PRWEB) December 22, 2004 - The Dessy Group has unveiled their 2005 bridesmaid dress styles. The styles emphasize a classic, wear-anywhere style that bridesmaids will love.
The Dessy Group's Dessy Collection and After Six lines now include sixteen new styles available in over fifty colors. But the real goal was to let brides and bridesmaids choose special occasion dresses that they can wear again and again.
"This year's styles, more than ever, are about fashion that bridesmaids will want to keep and wear to other occasions," Alan Dessy, president of the Dessy Group, said.
The new styles are now available for viewing on Dessy's web sites, at and Dessy's After Six bridesmaids site. Site visitors can select colors and styles, order fabric swatches and purchase accessories, online.
The Dessy Group, originally known as A&M Rosenthal, was established in 1939. The business is a leading manufacturer of bridesmaid dresses and special occasion gowns under the labels Dessy Collection, After Six and Alfred Sung.
Contact Information:
Alan Dessy
The Dessy Group
800.444.8304
118 West 20th St., 3rd Floor
New York, NY 10011
http://www.dessy.com
http://a6.dessy.com
http://www.alfredsungdresses.com
# # #