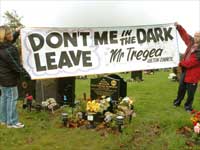 I just want to grieve for my son in peace
(PRWEB) January 1, 2005
Bereaved parents and other grieving people from all over the world are adding their support to Peter Robinson's quest to honour the dying wish of his late, "lovely son", Sean - not to be left alone in the dark - despite the opposition of bureaucrat Dick Tregea and Halton Borough Council, in Runcorn, UK, where the Robinson family resides.
Sean died at just 10 years of age in December 2003, after a brave battle with a brain tumor. "I just want to grieve for my son in peace," pleads Peter, who still - after several months of campaigning - can hardly believe Tregea and the Council are holding fast to what he feels is an utterly senseless stance.
Robinson is far from alone in this view. Hopeful Thinking, an online grief community based in Canada and co-founded by another bereaved father, Steve Dawkins, has thrown its active support behind Peter and his family. Over the past 6 weeks since news of Peter's plight was first posted on the http://HopefulThinking.org website, "literally hundreds of emails and forum posts have been streaming their way to 'Dick', but as yet - unfathomably - there is still no real sign of the 'u-turn' called for in what is the silliest, yet crudest and cruelest example of grief incompassion I've ever seen," lamented Dawkins on New Year's Eve.
Aside from pageviews and posts concerning the horrific tsunami waves of grief now sweeping over southern Asia in the wake of last week's natural catastrophe, Dawkins said the "Dick vs. Sean" saga is "far and away" the most active subject on the Hopeful Thinking website.
"We were shocked when Tregea et al let Christmas go by without recinding the standing decision, and still hope 'Dick' will 'see the Light' on this and start the New Year right.. .surely he and Halton Borough Council have other, more material matters to concern themselves with.. .such as examining how their own values and conduct has gone through some kind of very dark 'looking glass', so to speak."
On December 17th, 30 days into the Hopeful Thinking initiative in support of Peter's quest, http://SpiritualTourism.org, a global Spiritual symposium of which Dawkins is also co-founder, named Dick Tregea its jackass-of-the-year for grief incompassion. On December 28th, Hopeful Thinking added a dedicated webpage to keep supporters up-to-date on the struggle, http://HaltonBurroCouncil.org
jpg image #1: http://www.brandtechnology.com/dickbanner.jpg
jpg image #2: http://www.brandtechnology.com/seanrobinson.jpg
Hopeful Thinking media/communities synopsis: http://HopefulThinking.net
For other information or interview contact info:
Steve Dawkins
steve@hopefulthinking.org
Canada: 519.853.3049
###