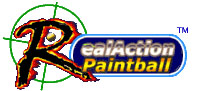 Santa Clara, CA (PRWEB) January 3, 2005
Car dealers let you do it. Computer resellers let you do it. So why don't other industries let you do it, too? Thanks to Real Action Paintball, after today that question can no longer be asked of the paintball industry.
For several years now, Real Action Paintball (online at http://www.RAP4.com) has offered a range of realistic paintball markers that are designed to give the customer an experience that is as true as possible. The cornerstone of this mission is the RAP4, the first paintball marker designed like a real assault rifle, the military's M4. Following in that tradition of being the cutting edge of law enforcement and military training as well as real action and military simulation games, Real Action Paintball announced yet another industry first today: an equipment trade-in program.
"Real Action Paintball will take any paintball markers, air soft guns, or bb guns in trade," said KT Tran, owner and operator of Real Action Paintball. "They don't even need to be working for the customer to earn $150 in credit." That credit, says Mr. Tran, can be used towards the purchase of a RAP4 Paintball Gun, T68 Paintball Gun, or a T16 Paintball Gun.
"We unite and serve several disciplines - including airsoft, paintball, military, and law enforcement training - so we decided the best way to serve our broad customer base is to allow them to trade in the old equipment they already have for new."
The offer comes just in time for the holidays, when people might be looking for that perfect gift either for themselves or a friend or family member. Though the end date for the offer has yet to be determined, Mr. Tran believes that it will be a success since it targets a customer base who have already expressed their interest in real action games and training by investing in equipment of some sort.
"We just want to make it easier for our customers to get the newest and best products available."
Terms and conditions of the offer can be found on Real Action Paintball's website, at http://trade.rap4.com, and questions can be directed to info@rap4.com or (408) 727-3144.
# # #