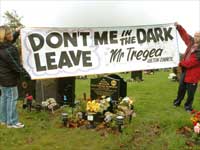 come to their senses, and 'recrunched' their values - hopefully very soon.
(PRWEB) January 3, 2005
Acting on the premise that there's no sense pretending all breakthroughs in "interpersonal consciousness - and thus Peace" are arrived at in "pretty" ways, a bereaved father in Canada, co-founder of a global grief website, is committed to seeing bureaucrat Dick Tregea and Halton Borough Council of Runcorn, UK nominated for this year's Nobel Peace Prize.
Tregea and his Council are the focus of a local petition launched by Runcorn resident Peter Robinson whose son, Sean, died of a brain tumor in December 2003. Simply seeking to honour his "lovely" son's last wish, he installed two small solar lights alongside Sean's grave, but Tregea and Halton Council - citing concerns about creating "Blackpool illuminations" - thought not and have ordered that they be removed.
"Sometimes the greatest illuminators are those who've exhibited the worst behavior and values and then come to see the dark effects of their conduct," Dawkins posited in his email today to the Nobel Nominating Committee prefacing the formal papers to follow once Tregea and Halton Council have "come to their senses, and 'recrunched' their values - hopefully very soon."
Over the past 6 weeks since news of Peter's plight was first posted on the http://HopefulThinking.org website, "literally hundreds of emails and forum posts have been streaming their way to 'Dear Dick', but as yet - unfathomably - there is still no real sign of the 'u-turn' called for in what is the silliest, yet crudest and cruelest example of grief incompassion I've ever seen," lamented Dawkins. "Dick missed Christmas and then New Year's, both ludicrously-belated but golden opportunities to right this both ridiculous and repugnant wrong, but the Light still hasn't flickedered on just yet."
Aside from pageviews and posts concerning the horrific tsunami waves of grief now sweeping over southern Asia in the wake of last week's natural catastrophe, Dawkins said the "Dick vs. Sean" saga is "far and away" the most active subject on the Hopeful Thinking website over the past few days. Dawkins feels there's an important "and informing connection of sorts" between the global grief and weeping in South Asia and the situation in Runcorn. "One really shouldn't need to be screamed at with unceasing, horrid images of suffering on television and in the newspapers to know when even a modicrum of compassion conducted in the course of everyday life would suffice - precisely as in this case of 'Dick vs. Sean' - to alleviate, at least a little, the inexpressible agony of fellow human beings in deep, unrelenting grief."
Challenged on whether or not he was truly serious about the Nobel nomination, Dawkins was emphatic. "Like Peter, I've made a promise. Like Peter, I will honour it." The Canadian admits he is "obviously very doubtful" that Dick et al will utlimately 'win' this year's Nobel Peace Prize, but "hay, in world with such Donkeys as these 'Dicks' kickin' around, you just never know what to expect next, do you?"
On December 17th, 30 days into the Hopeful Thinking initiative in support of Peter's quest, http://SpiritualTourism.org, a global Spiritual symposium of which Dawkins is also co-founder, named Dick Tregea its jackass-of-the-year for grief incompassion. On December 28th, Hopeful Thinking added a dedicated webpage to keep supporters up-to-date on the struggle, http://HaltonBurroCouncil.org
Hopeful Thinking media/communities synopsis: http://HopefulThinking.net
Information regarding the Nobel Peace Prize Nomination process can be found on their website, at http://nobelprize.org/peace/nomination/nominators.html
# # #