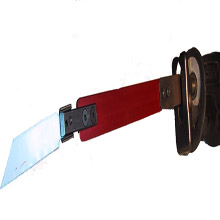 Cazadero, CA (PRWEB) January 5, 2005
Extend-A-Blade™ Extensions are made of a combination of high grade anodized aluminum and heat treated steels. This combination produces a very light weight extension with extremely durable strength that produces no wobbling while working at high speeds. Extend-A-Blade reduces the need to belly crawl in cramped crawl spaces. It eliminates the need to over extend on ladders and can also saves precious time for Fire and Rescue Teams.
Paws Off® Tools new innovative line continues to bring new concepts that turn a mono-functional reciprocating saw into a specialty tool. Each reduces liabilities while saving both time and money.
Flush-Cut's Offset Adapter was the first of the new line of reciprocating saw adapters by Paws Off ® Tools. The Flush-Cut Adapter allows the user to make flush cuts such as along floors or behind moldings. The Woodhog-Rasp™ is for quick heavy stock removal and The Quick-Sand Adapter is for producing a clean smooth surfaces. All adapters fit brand name reciprocating saw that accepts a standard blade system.
All products are now available at independent and chain hardware stores, specialty stores and online or through wholesale distributors. Suggested Manufactures Prices for Extend-A-Blade™ Extensions are $22.99 for the 12", $26.99 for the 18" and $29.99 for the 22". All of Paws Offs ® Tools products are proudly made in the USA with patents pending worldwide.
See the products in person at The World of Concrete, January 18th-21st, 2005 in Las Vegas, Nevada and The Orgill Dealer's Market in Orange County, FL February 17th-19th, 2005. You may also visit the company's website at http://www.flushcut.com
Contact: Rebecca Ritter
Flush-Cut, Inc
p.707.632.6854 f.707.632.6564
Rebecca@pawsofftools.com
Source: Flush-Cut, Inc
# # #