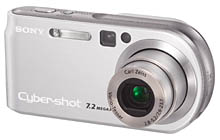 (PRWEB) January 6, 2005
Sony's new DSC-P200 digital camera is a 7.2 effective Megapixel marvel with Carl Zeiss Vario-Tessar zoom lens and 2.0-inch LCD that just keeps on shooting. The DSC-P200 provides top quality, simplicity and value for money. Full information at http://products.sony.co.uk/sony_dsc-p200.asp .
Key specifications of the Sony DSC-P200 digital camera:
7.2 effective Megapixels
Carl Zeiss Vario-Tessar lens
3x Optical Zoom, up to 14x Smart Zoom, 6x Precision Digital Zoom
Large 2.0" LCD
Stamina Battery Life (approx 370 shots by CIPA standard)
Quick Operation (Start-up 1.3 sec, Shutter Time Lag 0.3 sec, Shutter Release Lag 0.01 sec)
Real Imaging Processor
Manual Exposure Setting
Slim and Compact High Quality Aluminium Body with Hair Line Finishing
MPEG VX Fine with Audio
AF Illuminator
Histogram Indication
USB 2.0 High Speed Transfer
Scene Selection Mode
PictBridge Compatible
Conversion Lens Compatible (Optional)
Cyber-shot Station Compatible (Optional)
Compact Quality
Encased within a slim metal body is Sony's latest pocket digital camera, the Sony Cyber-shot DSC-P200 (DSCP200). Don't just be dazzled by the stylish exterior, however - a powerhouse lies inside. Extremely high-resolution images are within your grasp because of the 7.2 effective Megapixel Super HAD CCD and 3X optical zoom lens. Guaranteed for quality and reliability, the Carl Zeiss Vario-Tessar lens extends out from the body of the DSC-P200 when required, keeping the lines elegant and the body slim. The higher resolution means that your images will print larger and will carry finer detail, while the 7.2 effective Megapixel CCD also extends Sony Smart Zoom capability.
Pocket Power
Of course that's only half the picture. You can keep shooting as long as you need, because Sony's STAMINA technology means the Cyber-shot DSC-P200 digital camera can shoot up to 370** high quality images on one charge of the InfoLithium battery. Lending a hand is the unique Sony Real Imaging Processor, helping to make the Cyber-shot DSC-P200 digital camera highly energy efficient as well as speeding the camera operation- you're sure never to miss a shot due to "shutter lag!" As well as boosting the performance of the camera, the Real Imaging Processor works in conjunction with the high resolution Super HAD CCD and Carl Zeiss lens to produce pictures of excellent quality. Rich colours, clear images, sharper focus and more accurate exposures are all possible with Sony's Real Imaging Processor providing the heart of the Sony DSC-P200 digital camera.
Viewing Pleasure
The back of the Cybershot DSC-P200 presents another surprise. A large 2.0-inch LCD can be used to playback your pictures and adjust the camera settings. Bigger than you would expect for a pocket camera of these dimensions, the LCD is protected from harm and enhanced by a clear polycarbonate panel. As it is, the LCD keeps to the slim lines of the camera by being set flush into the metal body. Animated and enlarged icons make choosing functions simpler and it's easier to read the menu or select from any of the camera's exposure settings and nine Scene Selection modes.
Fully automatic for ease of use or manual exposure for the more advanced approach, these features allow you to be as creative as you want. The scene selection modes ensure that you'll always get an ideal picture in any of nine common situations including fireworks displays, beach activities or fast fun and games in the snow.
Extend the Experience
There's certainly more to the Sony DSC-P200 than meets the eye. You can use USB2.0 to connect directly to a PictBridge printer or hook up to a PC and use the bundled software for even more creativity with your pictures. A Sony Memory Stick is provided to store your images - simply remove and slot the Memory Stick into any supported device such as VAIO computers for even more playback options. Not only that, but the Sony Cyber-shot DSC-P200 is also capable of recording full screen high-quality MPEG movies for viewing on a TV.
For even greater extensibility, the Cyber-shot DSC-P200 supports an optional powered cradle, the Cyber-shot station. With this you can connect to a PC, printer or AV device, using a remote control to view your images on TV, while the camera battery charges up in the dock.
The Cyber-shot DSC-P200 will ship throughout Europe in February 2005.
Notes
Please find below further details about products and services highlighted in the story.
About the Cyber-shot DSC-P200
The Sony Cyber-shot DSC-P200 is capable of delivering 7.2 effective Megapixels, due to an enhanced Super HAD CCD, and works in conjunction with Sony's Real Imaging Processor to produce high-resolution images that are stunning in their clarity and colour reproduction. In addition to this, Sony has equipped the DSC-P200 with a Carl Zeiss Vario-Tessar lens with 3x optical zoom. Carl Zeiss lenses draw on more than 100 years of experience in optical engineering with the Vario-Tessar zoom lens being specially designed to keep the camera compact. On operation, the lens extends out from the body to offer a highly responsive 3X optical zoom that provides excellent picture quality at any setting. A conversion lens can be attached to the Vario-Tessar lens to enable more creative photo options. A 6X precision digital zoom is also on hand, as is a Smart Zoom facility, which allows 14X shooting in VGA mode.
Although the camera is slim and compact enough to be carried in a pocket (104x51.5x27.9mm) its robust aluminium metal body carries a 2.0-inch colour LCD. As well as being ideal for viewing your images, this provides easy access to advanced camera settings such as Histogram display as well as all menu items. For added ease of use, an animated and enlarged icon feature is activated whenever the user changes the Macro, Flash or Self-Timer setting.
As a bonus for cameras of this size the Cyber-shot DSC-P200 features a simple-to-use Manual Exposure mode, as well as Auto Exposure and Programmed Auto Exposure. For automatic operation and further ease of use, the Cyber-shot DSC-P200 offers nine Scene Selection modes to provide effective presets for occasions such as birthday portraits by candle light, fireworks displays and beach scenes, or when a high speed shutter, twilight portrait or a "soft snap" effect is required.
The Cyber-shot DSC-P200 includes support for Sony Memory Stick (supplied) and Memory Stick PRO and Hi-Speed USB 2.0 for connectivity requirements, which can be extended when docked in the optional Cyber-shot Station. The camera also features the PictBridge* interface which allows the Cyber-shot DSC-P200 to connect directly to a compatible PictBridge printer without any need for a PC.
Short video clips, ideal for attaching to email, are also possible with the Cyber-shot DSC-P200. The high-resolution MPEG Movie VX Fine (480 x 460, 30 frames per second) format is possible when used with optional Memory Stick PRO storage or MPEG Movie VX Standard when the supplied Memory Stick is used.
About the Real Imaging Processor and STAMINA
Two key technologies power the Cyber-shot DSC-P200. A staggering 370**-shots are capable on one charge of the NP-FR1 InfoLITHIUM battery, thanks to Sony's STAMINA power management technology. This is helped in no small part to the energy-saving Real Imaging Processor, designed by Sony to provide the heart for its Cyber-shot range. Among the many improvements offered by this chip are more accurate colour reproduction, a better signal to noise ratio to provide clearer images, improved Autofocus performance, as well as enhanced auto white balance and auto exposure. You can also shoot faster thanks to the Real Imaging Processor, which has reduced the playback interval and shooting interval and improved the shutter and release time lag.
About the Cyber-shot Station and Accessories
The Cyber-shot station CSS-PHB is an optional docking cradle for the Cyber-shot DSC-P200 that makes life simple when you want to connect via USB 2.0 to a printer, PC or AV device. It also features battery charging facilities, so all you need do is slot in the Cyber-shot DSC-P200 while not in use for it to be charged up and ready for action. The angled slot of the Cyber-shot station combined with the camera's large LCD monitor is the ideal slideshow set-up. It comes equipped with a wireless remote so you can easily control a big screen slideshow on TV from the comfort of your sofa.
Supplied accessories include a 32MB Memory Stick, NP-FR1 InfoLithium battery, an AC Adaptor, Wrist Strap, CD containing software (including Picture Package, Image Mixer) and USB driver, as well as AV and USB cables. Other optional accessories include several stylish carrying cases as well as a range of wide and telephoto lenses and filters.
PictBridge is a trademark
** The measurement method is based on the CIPA standard (CIPA: Camera & Imaging Products Association). Subject to errors and technical changes.
Media Contact:
Jonathan Danbury
Sony PR Department
phone: 01 932 816 458
fax: 01 932 817 029
jonathan.danbury@eu.sony.com
# # #