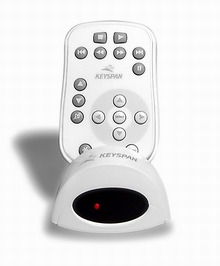 AirPort Express featuring AirTunes is the best way to play your iTunes music on a stereo located anywhere in the home
San Francisco, CA (PRWEB) January 11, 2005
MacWorld Expo Booth # 842, Keyspan's new Express Remote, announced in November, is now available at the online Apple store, Apple's retail stores, as well as from CDW, PC Connection and other leading resellers of computer accessories.
Retailing at $59, Keyspan's new USB infrared remote control includes support for Apple's groundbreaking AirPort Express. AirPort Express is Apple's mobile base station that features analog and digital audio outputs that can be connected to a home stereo, and together with AirTunes gives users a simple way to wirelessly stream music from iTunes on their Mac or PC to any room in the house. In addition to necessary drivers, the production CD also includes iTunes and QuickTime for Windows and Mac OS X.
"AirPort Express allows people to play music without wires," said Mike Ridenhour, president of Keyspan, America's #1 brand of USB connectivity products*. "The new Express Remote from Keyspan perfectly complements AirPort Express allowing users to take remote control of their wireless music."
"AirPort Express featuring AirTunes is the best way to play your iTunes music on a stereo located anywhere in the home," said David Moody, Apple's vice president of Mac Hardware Product Marketing. "Now with Keyspan's Express Remote users have a way to remotely control their iTunes -- taking the wireless music experience to the next level."
In addition to its support of iTunes over AirPort Express, the Keyspan Express Remote also serves as a convenient infrared remote that enables users to control media applications on a PC or Mac just as they control their TV or VCR.
NPD Distributor Hardware Accessory Report shows that Keyspan is the top selling brand of USB connectivity products for the last three years. Keyspan's cards, hubs, adapters, and remotes offer reliable connectivity solutions for the home, school, and office.
Editors can reach Keyspan at 510-222-0131 or via e-mail at info"@"keyspan. The Keyspan website is located at http://www.keyspan.com
Contacts:
Mike Ridenhour, Keyspan, 510-222-0131 x102; mike@keyspan.com
Bill Gram-Reefer, Worldview, 925-215-8463; reeferatworldviewprdotcom
# # #