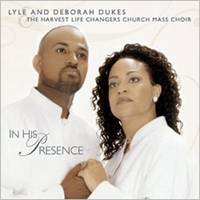 (PRWEB) January 18, 2005
The newly released project of Pastors Lyle and Deborah Dukes and the Harvest Life Changers Mass Choir entitled In His Presence, has entered into the top twenty on the national Gospel music charts as reported by Nielsen SoundScan, a major tracking system of the music industry.
Harvest Mass Choir's "In His Presence," entered in at number 19 behind Bishop Paul Morton's "Seasons Change" with Ruben Studdard's "I Need An Angel" and Israel and New Breed's "Live From Another Level", entering at number one and two, respectfully.
Nielsen SoundScan is an information system that tracks sales of music and music video products throughout the United States and Canada. Sales data from point-of-sale cash registers is collected weekly from over 14,000 retail, mass merchant and non-traditional outlets. Nielsen SoundScan is the sales source for the Billboard music charts.
The Harvest CD Project, which has been receiving major airplay across the country, features singles "You've Got to Move", "Can I Get a Witness" and the highly lauded track "Holy Spirit." The project has found its way into heavy rotation in several major markets. Internet industry giant, Gospel EUR (Electronic Urban Report), has selected the single "You've Got to Move" as a gospel industry top pick for the fourth week in a row. Here is what industry leaders are saying about "In His Presence":
"Harvest Life Changers proves that there are great church choirs out there bringing dynamic worship experiences to the masses!"
-Teresa Hairston, Publisher, Gospel Today Magazine
"An anointed project that will bless the listener. You will be able to feel the heart and passion of Pastors Lyle and Deborah Dukes and their excellence in ministry."
-Pastor Donnie McClurkin
Also featured on this wonderful project are the worship ministries of Stephen Hurd and Gospel Diva LaShun Pace. Also, look for the Music Video "God's Chosen People," which was produced and directed by Tim Reid (TV sitcom "Sister, Sister") of New Millennium Studios. The music video is currently airing on BET Gospel Video, INSP, the Word Network and TV One. Look for this project in retail stores and music internet sites in January 2005. This may very well be the "Cinderella" project of the year! For a preview, visit http://blackgospelpromo.com/dukes/duke2.htm.
Radio Contact: The ND Company, Brett Keller, Los Angeles, CA 949-364-9030. Check out the CD review at http://www.Gospelcity.com. To order CD contact Central South Distribution.
# # #