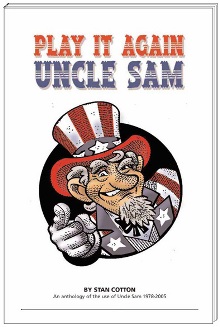 (PRWEB) January 18, 2005
Uncle Sam and entrepreneur Stan Cotton work well together for over 24 years. Uncle Sam, the most patriotic and well-known symbol on earth, has also spent a few generations fighting tirelessly for truth, justice and the American way.
Put them together and you've got one hell of a one-two punch.
In fact, Cotton, an outrageous and successful longtime ad writer, has relied on Sam to make a lot of his campaigns work with "in-you-face-patriotism." Since 1976 he has compiled sixteen of these Sam-related efforts into an anthology called "Play It Again, Uncle Sam."
"One reason I keep coming back to Uncle Sam is simply that he is a highly recognizable character in American folklore and, used properly, has a high level of credibility," said Cotton.
In other words, Sam works. What better spokesman is there for a truly American effort? And that includes the http://www.joinfoil.org campaign.
We have to take a lesson right now from Uncle Sam and our founding fathers who stopped at nothing to make their grievances heard. With strong words and even stronger protests, they won wars, saved nations and helped millions survive deadly crises.
Just leaf through the "Play It Again, Uncle Sam" anthology and you'll realize how effective the goateed man draped in Old Glory clothing can be.
When Stan is asked. Why do you use Uncle Sam so often?"
The response is, "He works!"
To order 16 case histories of "Play It Again Sam" at http://www.pickcotton.com
# # #