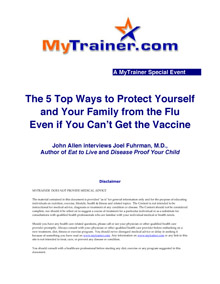 Eat to Live, Fasting and Eating for Health
Maplewood, NJ (PRWEB) January 20, 2005
While the American government has increased supplies of flu vaccine doses, millions of Americans are looking at alternatives if they can't get a flu shot. According to Joel Fuhrman, M.D., there are certain steps people can take to – if not "flu-proof" themselves entirely – significantly reduce their chances of experiencing any flu symptom.
"Most people think that getting the flu is a direct and inevitable result of coming into contact with the flu virus or someone with a flu symptom," Fuhrman notes. "But if that were true, then everyone who breathed in a flu germ would get sick. That's obviously not the case. There are other factors that determine whether an individual who ingests the flu virus will develop a flu symptom and become sick. Most of these are in our direct control – and they're actually more effective than a flu shot."
Dr. Fuhrman, author of several books, including "Eat to Live, Fasting and Eating for Health" and the soon-to-be-released "Disease-Proof Your Children" is a board-certified family physician who specializes in preventing and reversing disease through nutritional and natural methods.
Dr. Fuhrman shared his findings on "The Top 5 Ways to Protect Yourself and Your Family from the Flu Even if You Can't Get a Flu Shot" during a special guest appearance on a http://www.MyTrainer.com telephone seminar.
John Allen Mollenhauer, founder of http://www.MyTrainer.com, interviewed Dr. Fuhrman on five specific nutritional strategies that are more effective than a flu shot and help a person's immune system resist the flu virus.
John Allen added, "It's important that with all the media hype about this topic, to highlight the insights of Dr. Fuhrman, a true giant in the field of evidence-based, preventive medicine. I encourage as many people as possible to get this advice before the flu season hits. We recorded this session and posted it on our public website for anyone to hear or download. We also posted the transcript for easy reference."
To listen to the flu shot interview or read the transcript free, go to http://www.MyTrainer.com/flu John Allen Mollenhauer can be reached at (973) 763-9902. Joel Fuhrman, M.D. can be reached at (908) 237-2195, or at http://www.drfuhrman.com.
# # #