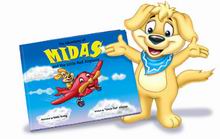 The Adventures of Midas and the Little Red Airplane
Calabasas, CA (PRWEB) January 26, 2005
Snyder-Winston Press, publisher of the children's picture book, "The Adventures of Midas and the Little Red Airplane," is offering a free book to teachers of Kindergarten classes in exchange for a "book report" of the book. While supplies last, teachers can sign up to receive the free Midas book at http://www.MidasKids.com. Teachers are encouraged to read the book to their class, print out coloring pages from the website, play games with the kids online, and then fill out a quick report describing what the teacher and class thought about the book.
"It's just a way of having a little fun in class and introduce Midas and his friends to the kids," said the author "Uncle Ted" Afetian, who originally wrote the story for his nephew. "Afterwards, the teachers can pass the book along to other classes or give it to the school librarian."
Early feedback provided by teachers report how the children enthusiastically respond to the brilliant illustrations and listen carefully throughout the reading. "The kids immediately fall in love with Midas and all of the characters," said Uncle Ted. "They yell and cheer along with Midas during the story. The teachers like the subject matter of helping a friend in need and never giving up."
The first book in the Midas Series, "The Adventures of Midas and the Little Red Airplane" is about a golden retriever named Midas who helps a little red airplane find his way back home to the airport. The adventure helps children understand about problem solving, positive reinforcement, and most importantly, about never giving up.
Supplies are limited on a first come, first serve basis. Instructions and rules are listed on the website at http://www.MidasKids.com at the "Teachers: Your Book Report Is Due!" link. "The Adventures of Midas and the Little Red Airplane," ISBN: 0975274902, retails for $16.95 and is available at Amazon.com and participating Borders and Barnes & Noble Bookstores.
For more information, contact:
Leanne Bass
Snyder-Winston Press
(818) 591-8143
leanne@snyder-winston.com
# # #