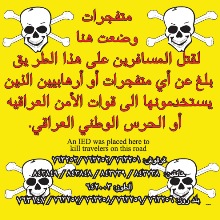 In our small community of New Hope, MN there is truly new hope that Iraq will become a peaceful democratic country, could potentially become a free trade country and could import many products from the USA from many small businesses
New Hope, MN (PRWEB) January 28, 2005
Minnesota-based CLRB Hanson was selected to produce over three thousand signs for use during the Iraq election to warn voters and travelers of possible terrorist threat. Insurgents have placed explosive devices to kill or scare people from voting and reduce the number of voters that participate in efforts to reestablish peace in their country. Of the more than 100,000 signage companies worldwide that could have been contacted, CLRB was selected because of there unique ability to produce signs in the native languages and deliver quickly. Some of the signs feature unique "Glow in the Dark" technology.
"Certainly this adds a new meaning to the words – 'Made in America,'" said Tom Daher. "One must wonder what impact those signs will have on voter turn-out."
Each city has a special sign with numbers to call the Iraq National Army in the event of any terrorist activity or possible Improvised Explosive Devices (IED) threat. During Iraq's first democratic election on Jan 30, 2005, these signs will be used to inform voters and others in Iraq that IEDs have been placed throughout Iraq, to kill or hurt voters while attempting to vote for a new leader of their country.
The sign has four skull bones in each corner and is written in Arabic, Kurdish and English. The warning sign is 24 inches by 24 inches printed both sides so incoming voters can read it from both directions.
Most Americans have never had to face this type of adversity at the voting booth. Americans of all race, creed and color have paid dearly over the years to maintain our freedoms. Our freedoms are not to be taken for granted when we think of the number of times US fighting men and women have fought to maintain world peace at home and abroad.
"In our small community of New Hope, MN there is truly new hope that Iraq will become a peaceful democratic country, could potentially become a free trade country and could import many products from the USA from many small businesses," said Cindy Hanson.
About CLRB Hanson
CLRB Hanson is a small specialty printing company with 20 employees that specializes in Made in The USA production. Collectors' versions of the signs are also available as mouse pads. Media copies of the sign are available upon request.
Media Contact:
Brett Hanson
763-228-0524
http://www.industrialprinting.com
# # #