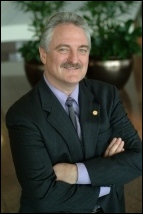 Upland, CA (PRWEB) February 14, 2005
Admittedly, small businesses with their own computer networks are becoming more common. But as one referral networking mogul will tell you, the secret to setting a small business apart is a network based on people, not data.
Dr. Ivan Misner, a business professor at Cal Poly University Pomona, CA, and CEO of the world's largest networking firm explains that the recent boom in his industry and his own firm, BNI (Business Network International), is evidence of the importance of his "old-fashioned" brand of networking.
"While any small business can create a computer network," Misner muses, "they're a dime a dozen. A network of successful, like-minded people is something that has to be farmed for. It takes time. And in that sense, it certainly may be more important in setting a firm apart."
BNI, which has over 3,600 chapters around the globe, reported over two million separate referrals made in the last year, producing an estimated billion dollars (US) worth of business. Most of that business, Misner says, is from small companies.
BNI (http://www.bni.com) is a referral networking organization, which at last count had over 3,600 individual chapters in 22 countries worldwide. BNI's Founder & CEO, Dr. Ivan Misner is the author of several book's including the NY Times best-seller, Masters of Networking, (http://www.MastersofNetworking.com) and the recently released #1 best-seller, Masters of Success (http://www.MastersofSuccess.biz).
Contact:
Michael Drew
850-747-8188
promoteabook@comcast.net
###