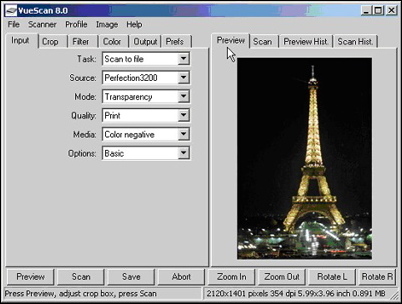 Phoenix, AZ (PRWEB) February 14, 2005
When a married couple became embroiled in a bitter argument over the poor condition of the pictures in their wedding album, they didn't go to a marriage counselor, but to Professor "A".
Owned and operated by Alec Fromm, Professor "A", based in Mississauga, Ontario, is an independent training service for Apple's Mac OS X operating system. Alec agreed to help the couple restore their wedding memories. Even though a "professional photographer" took the pictures, Alec determined that the black & white and color 35mm negatives were underexposed and improperly processed for the types of film used. How could this marriage be saved?
Alec turned to Hamrick Software's, VueScan, the award-winning program that lets users easily produce better looking digital images from color snapshots, negatives, slides, and documents. Using VueScan, Alec was able to capture the film data at a level that allowed him to manipulate the images to a point where the output was astounding, when compared to the original prints.
"VueScan's selective batch scanning features, plus its ability to save scanning options as loadable presets and numerous film type options allowed me to speed up the process and adjust settings for maximum results," noted Alec. "My friends are now very pleased with the results and have one less obstruction to their wedded bliss!"
Used extensively by professional photographers, film processing labs and consumers around the world, VueScan 8.1.30 offers an enhanced, user-friendly interface with support for raw files for 109 digital cameras, and support for more than 400 scanners, including all Canon and Epson scanners.
The Standard Edition of VueScan retails at $49.95 USD, and the Professional Edition retails at $89.95 for a single user license. Multi-user licenses are available. A fully functional, trial copy of VueScan can be downloaded from http://www.hamrick.com/.
VueScan is available for Mac OS X, Windows and Linux. It automatically adjusts images to optimum color balance, which reduces the need to manually do this in Photoshop. VueScan includes built-in color calibration of scanners, producing colors that look true to life. Supporting more than 100 brands of negative film, VueScan offers options for scanning faded slides and prints; batch scanning, IT8 color calibration and other advanced scanning features.
For a detailed listing of VueScan features see: http://www.hamrick.com/abo.html
About Professor A
Based in Mississauga, Ontario, Alec Fromm provides training for Apple's OS X operating system and related applications for the graphics/prepress industry. He regularly recommends VueScan to any client that requires best scanning results. He can be reached at Mississauga@mac.com
About Hamrick Software
Based in Phoenix, AZ, Hamrick Software was founded in 1991. Its first product was VuePrint, an easy to use JPEG viewer for Windows that for many years was the recommended image viewer for AOL, with more than 100,000 users. In 1998, the company first released VueScan, a program for scanning with flatbed and film scanners with more than 50,000 users all over the world.
For more information, contact:
Hamrick Software
4025 E. Chandler Blvd. Suite 70-F16
Phoenix, AZ 85048
Phone: (480) 282-8032
Fax: (480) 993-2297;
E-mail: support@hamrick.com
Media/Editor Contact
Bill Gram-Reefer
WORLDVIEW
925-215-8463
reefer@worldviewpr.com
# # #