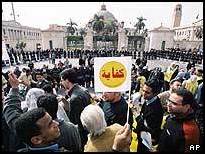 including voter registration for municipal election and the government-sponsored conference on women's rights.
(PRWEB) March 3, 2005
President George Bush has caused the spread of the most democratic infectious word, "kefaya" causing an epidemic in the Arab world and Egypt.
Egyptians, Arabs and people from Middle East have been demanding more say in how they are ruled and governed. The message is spreading across in the whole region and the epidemic has become so uncontrollable that the only way to deal with it, is by injecting democracy and allowing human rights to be practiced, to avoid more complications and side effects which could develop and completely sabotage the political systems, produce instability and threaten the security in these countries and their neighboring countries.
"Kefaya" has become an epidemic spreading from Egypt to the rest of Arab world. Read more about it at http://www.egyptelection.com/
President George W. Bush's plans for Middle East democracy have caused a wide spread call of "Kefaya".
Kefaya, kefaya, kefaya is the single most repeated word in Egypt, the Arab world and the Middle East.
"Kefaya" is an Arabic word that means "enough" and there are two ways for it to be pronounced, either "Kefaya" or some people would say "Kefayah", both would mean "enough".
"Kefaya" has become the world most democratic infectious and contagious word for people seeking democracy. Complete coverage at http://www.egyptelection.com/
Mr. Bush's Middle East democracy plan has opened the doors to more freedom and has made people more outspoken, giving them a sense of security to use this most dangerous newly found weapon on the streets of Egypt and the Arab world and now it has spread around causing major changes in the political beliefs of these people and in so doing has made an impact with a potential to change their lives.
"Kefaya," or "enough," has become the most used word in Egypt and the rest of the Arab world. It has appeared on thousands of posters lifted by demonstrators in Cairo demanding that Egyptian President Hosni Mubarak not run for a fifth term.
Egypt was censured for having "restricted many basic rights," including continuing to "mistreat and torture prisoners" and arbitrary arrest and detention.
"Saudi Arabia received kudos for "positive developments," including voter registration for municipal election and the government-sponsored conference on women's rights. "The record of human rights abuses and violations for Saudi Arabia, however, still far exceeds the advances," the report stated. In addition to reports of torture, arbitrary arrest and closed trials, "religious police continued to intimidate abuse and detain citizens and foreigners." Mar. 1, 2005 23:01 The Jerusalem post said
Egypt was criticized for not giving its citizens "the meaningful ability to change their government."
Egypt also has been censured for allowing its armed forces to mistreat and torture prisoners and for conducting arbitrary and mass arrests. Summing up the political mood of the country, Egypt's National Campaign for Change has adopted the word 'kefaya' as its name; Kefaya has been one of the groups pushing for more openness in the country's presidential elections."
US Pressure is starting to be felt by Egypt and other countries in the region. President George W. Bush in his State of the Union speech had singled out "the great and proud nation of Egypt" in his State of the Union address, which, the president said, "showed the way toward peace in the Middle East." Bush then added that Egypt "can now show the way toward democracy in the Middle East."
Mubarak's declaration for political change comes as a shock as Egypt faces growing problems at home and mounting pressures from the Bush administration to introduce more democratization.
A website has been launched to cover all events and developments on the kefaya epidemic spread namely http://www.kefaya.com.
Another website http://www.egyptelection.com was launched as an encyclopedia for Egypt and covers all area for Egypt life and guide visitors for a tour in Egypt with information about travel tours vacations ancient Egypt history and shopping including quick guide to Egypt travel tours vacations ancient Egypt culture history and Egypt shopping.
Egypt election website covers Egypt travel Egyptologist Egypt Egyptian Egypt Egyptian vacation Egyptians Egyptology Egyptian tours shopping shops Nile Cairo Alexandria maps Nile cruise tour Egypt guide for travel modern and ancient Egypt site map Egypt shop and shopping Egypt travel guide popular Egypt pages pyramids ancient religion pharaohs & kings Cairo Egypt for its ancient and modern high culture.
# # #