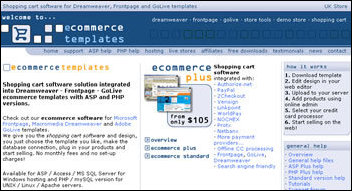 (PRWEB) March 4, 2005
E-commerce Templates have just released version 4.8.0 of their shopping cart software with some exciting new features to complement the existing feature rich shopping cart solution. The software now supports stores with up to three separate languages, running from the same database and with all the product and category information editable from the same online control panel.
The new system fits in well with the existing language files that translate all the store generated language from one simple file. Users can also take advantage of the ability to notify third parties such as drop shippers, manufacturers, designers etc. of sales. This also allows the grouping of products by drop shipper or manufacturer. There is also a plug-in available for users who wish to offer digital downloads from their store, particularly useful for people selling e-books, software, music etc.
This feature can be used in conjunction with regular shipped products allowing for greater flexibility in the products offered on the store. All these functions can be controlled via the online control panel which resides on the users' server. The control panel itself has been updated to a CSS based version, streamlining download times as well as allowing for the application of skins to personalize the admin area. Other recent additions include the ability to block IPs or IP ranges from the checkout process, integration with the payment provider USAepay and resending of emails to customers / affiliates / drop shippers.
Ecommerce Templates has been providing economic yet powerful shopping cart software for over 3 years from http://www.ecommercetemplates.com
The philosophy of Ecommerce Templates is quite simple; to offer low cost and fully featured shopping cart software integrated into Dreamweaver, Frontpage and Golive templates. There are no monthly costs or hidden fees and the one off price ranges between $115 and $165 depending on the design. There is also a Generic version which can be integrated into an existing design, selling at $105. A full list of features can be found at http://www.ecommercetemplates.com/help/ecommplus/about.asp
Ecommerce Templates is owned by Electronic Shopping Solutions LLC - 410 Park Avenue, 15th Floor, New York 10022, USA. Telephone 1-718-887-7598.
###