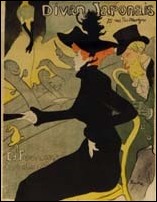 (PRWEB) March 3, 2005
A personal record was set on the morning of February 26th, 2005 in the gallery of Antiques and Estate Auctioneers and Appraisers of Wellington, Ohio. With a prestigious New York gallery on the phone and many parties via the Internet and present in the gallery itself—a volley of bids was discharged pursuing the hot item — Toulouse Lautrec's "Divan Japonais". The gorgeous piece was not even revealed to the auctioneers themselves until well after the first press release announcing the auction, leaving the piece shrouded in mystery. In an offhand manner John Farkas, the presiding auctioneer, announced upon opening the bid at $20,000, "Everyone should be bidding …after all, what do you have Toulouse?". The wit brought many laughs and the piece fetched a gallery worthy price of $32,200.
The uniqueness of the sale attracted a crowd of varied interest—namely those there for the sake of the automobile collectibles, and those present to bid on the extensive vintage poster collection. Online, individuals from the countries Germany, France, Austria, and England took on the formidable gallery audience. Meanwhile art galleries from New York and California were on the phone ready to snatch up specific items. Private collectors and dealers alike were content to compete on these grounds for the beautiful items present.
A museum in California, present via telephone, bought the 1969 Mehari Citreon for a museum piece. This bid attests to the quality of the pieces comprising Mishne's estate. Camera Work books by Steichen exceeded expectation and fetched prices nearing $5,000. The boyhood photos of J.H. Lartigue are another hot item that exceeded estimates. Every piece in this auction sold for market value, and in most cases, higher.
Signed and numbered prints by Hearsey and Juratovic, Fearnley and Watts once again fetched bids from automobile enthusiasts. Original vintage posters from WWI, the French Algerian Campaign, the Spanish Civil War, and WWII—as well as a vast collection of original advertisements from complementary eras intrigued a separate audience. Photos and illustrations featuring turn of the century life and times captured the interest of still yet another audience. There was truly something for everyone.
Two more auctions are set for the upcoming month of April to round up the rest of Mishne's vast and unique estate. On April 23rd the auction will take place in the gallery once more, in Wellington, OH. The final auction, scheduled for April 30th, will take place at Mishne's home where the real estate property itself will be auctioned. The Auction Gallery may be reached at 440-647-4007 or at its website http://www.estateauctioneers.com.
# # #