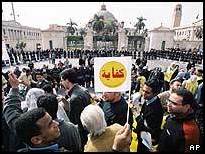 I do think that the pictures and the spirit of the Iraqi people exercising the democratic franchise for the first time in the centre of the Middle East, in the centre of the Arab world, has had an effect
(PRWEB) March 4, 2005
Mubarak declared amendment for the constitution to change the way Egyptians Elect their leader, but is it "Kefaya"enough? Complete coverage at http://www.egyptelection.com
"There has to be hope," Abdel Halim Qandil the editor of Al Arabi and a leader of the Kefaya (Enough) movement "because if there isn't, this country will fall into a deeper abyss."
Recent protests in Cairo, he said, have been organized with the chant of a new movement -- "Kefaya," Arabic for "enough." Kefaya with an e gives the right sound for the word but saying "kifaya" is like saying "inough" instead of enough.
"Kefaya Mesh Kefaya" means enough is not enough People from Egypt Lebanon and the Arab world are now demanding true democracy. "We want true democracy, we want human rights, we will not accept anything less it is our basic rights that have long been taken away from us and we want it back and we want it now" said kamal wassief an activist of the kefaya movement.
Two websites http://www.harakamasria.com/english1.asp?id=15 and http://www.kefaya.org are for the kefaya movments.
Abdel Halim Qandil, the editor of Al Arabi and a leader of the Kefaya (Enough) movement, expressed uncertainty about what parliament would come up with regarding the proposed changes for article 76.
The Wafd Party said the requirement that candidates obtain the approval of elected councils would turn the multi-candidate vote into a "disguised referendum" because Mubarak's ruling party dominates all elected bodies, including parliament.
Law tailors have blown up the chance for democratic Egypt for years to come if they go ahead with their proposed changes to secure Mubarak and NDP stay for good.
"The National Democratic Party holds the overwhelming majority today ... and its way of obtaining it is through forgery," the Wafd Party newspaper said on its front page.
Qandil said that Tunisia has multi-candidate elections, but that the president still gets more than 90 percent of the vote. Complete story and more News at http://www.egyptelection.com
Observers say Egypt could follow the pattern of Tunisia, which has multi-candidate elections but has been ruled by President Zine al-Abidine Ben Ali since 1987.
Several Tunisian opposition parties said polls which secured Ben Ali 95 percent of the vote last year were unfair.
Egyptian opposition say Mubarak's proposal is of limited value while the government refuses to lift emergency laws in place since 1981 or curb presidential powers and the number of terms a president can serve.
http://www.egyptelection.com has information about Egypt and emergency law.
Palestinians elected a leader Bush likes, Iraqis braved attacks to vote for a new government, Egypt and Saudi Arabia are making small moves towards democracy, and regional nemesis Syria is under such intense international pressure that the US and France are working together against it.
Asked yesterday how much the Iraq war had contributed to the mass demonstrations for democracy in Lebanon and the proposed move to allow a contested presidential election in Egypt, US Secretary of State Condoleezza Rice insisted it was significant.
"I do think that the pictures and the spirit of the Iraqi people exercising the democratic franchise for the first time in the centre of the Middle East, in the centre of the Arab world, has had an effect," she said.
Aida Seif Al Dawla of the Campaign for Change, a long time activist, said the announcement of kefaya is simply "mesh kefaya" (not enough). More news at http://www.egyptelection.com
Qandil said that Kefaya would announce the names of a presidential candidate and his vice- president as a symbolic gesture. He said the group approached former judge Tareq El-Bishri, who declined the offer.
###